As locals in the city of New Orleans, a city whose food is as important to its local culture as Jazz or the French Quarter, the New Orleans Film Society feels that our food establishments and restaurants bring our community together. (And Homer Simpson agrees!)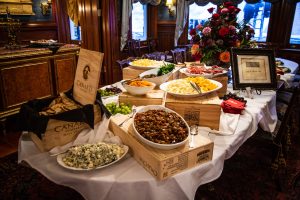 The following list comprises some of the amazing restaurants, delis, and grocers that have supported New Orleans Film Society's events and our audiences – a favor we would like to return. These institutions are a representation of the amazing and unique culture of New Orleans and the city's commitment to the arts and storytelling.
These are very uncertain times for many, and the restaurant industry is no exception. New Orleans prides itself on its unique and robust restaurant industry that gives back to the city in many ways, and their industry is struggling more than most. While not all will be financially able, we ask that those who are able and willing to help support local restaurants should contribute by either ordering pickup, getting delivery, or buying gift cards for future use.
These restaurants are mostly staffed by essential workers who are in dire need of our support, and we hope to be able to give back in a time when it is easy to feel alone. 
Don't forget to check out our new Home Theater for new independent releases and our new streaming channel From NOLA with LOVE for films from New Orleans to pair your food with a great movie!
DELIVERY OR PICKUP
Marcello's – local Italian fare and wine bar with family meal style options and wine bottles for delivery and pickup.
Cowbell– upscale Truck Stop serving updated American-fare, available for delivery, pickup, and walk up services either by phone or Waitr
Dat Dog – servin' up gourmet sausages from the Louisiana Alligator to the Irish Guinness 'dog, Dat Dog's open for delivery and pickup.
Felipe's Taqueria – local, Mexican food with multiple locations across New Orleans, offering Takeout, curbside, and delivery via multiple food delivery apps and by phone
Reginelli's – local Italian eats focus on pizza, pasta, and sandwiches, available for delivery or pickup.
Stein's Deli – local mini grocer and deli offering NY style sandwiches, bagels, and assorted deli goods, available for delivery and pickup.
Theo's Neighborhood Pizza – local pizzeria with multiple locations offering delivery and curbside pickup.
Hivolt Coffee – a small café with breakfast and lunch options, as well as caffeinated beverages, offering pickup and delivery via Dlivery Nola
Martin Wine and Spirits – family-owned wine, spirits, beer, and gourmet food shop, offering limited delivery and pickup
Breaux Mart – local, Louisiana based small grocery with wide selection as several locations in the greater New Orleans area, available for in-person shopping, reserved 8-9am shopping time for seniors 60+
Raw Republic – raw food juicer focused on health and well-being with fresh, local, cold-pressed juices and bowls, offering curbside pickup and delivery in select areas
Mahony's – Louisiana classics and fresh seafood with authentic taste, known for po-boys, offering curbside delivery or pickup.
Breads on Oak – Artisan plant-based bakery and café offering hand crafted breads and sandwiches, available for pickup and delivery via Ubereats
Fresh Market – European market inspired, high quality grocery, offering delivery and in person shopping with extended hours, reserved 8-9am shopping time for seniors 60+.
Carmo – a tropical café drawing inspiration from the coasts of Asia, Africa, and the Caribbean, offering delivery and pickup.
Jimmy John's – fast service sandwich shop offering lightning fast delivery and takeout.
The Green Fork – health-based food operation serving fresh juices, smoothies, salads, and gluten free and vegan baked goods, offering pickup and delivery.
Copper Vine – upscale winery and pub offering family style meals, individual meals, as well as wine and beer, available for pickup or delivery via various delivery apps
Poof Cotton Candy – unique, candy shop specializing in flavored cotton candy and other fun sweets, available for delivery and pickup.
WeDat's Chicken and Shrimp – flavorful and spiced wings and fried food offerings, available for pickup and delivery, seasoning available for purchase at Rouse's
Restaurant Depot – where restaurants shop, large selection grocer. Available for in person shopping, pickup, and delivery through Instacart
DELIVERY ONLY
Mojo Coffee House – small coffee brewer offering caffeinated beverages, cold brew, and café goods, available for delivery.
PICKUP Only
Cake Café – sweet treats Bakery offering brunch plates, morning drinks, and cakes, available for pickup.
The Vintage – a relaxed café and bar experienced combined with a New Orleans flare, offering curbside pickup.
Lula – privately owned micro-distillery and restaurant offering food, spirits, and cocktails, available for pickup and curbside delivery only.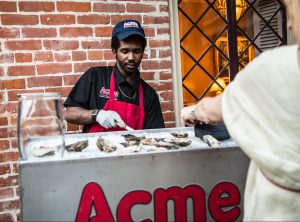 Acme Oyster House – Louisiana seafood known for its famous oysters, offering pickup at some locations.
Galatoire's – iconic, upscale New Orleans restaurant services Creole and Cajun classics, offering family to go meals for pickup.
Ralph's on the Park – farm to table, Louisiana style restaurant offering family style dinners for curbside pickup.
Saffron – elevated Indian food with Creole inspiration offering ready to eat and fridge stockers via curbside pickup.
Chicken and Watermelon – Colorful, no-frills counter serve selling 20+ flavors of chicken wings as well as watermelon punch, available for take out.
Whole Foods – high quality food store, only certified organic national retailer, offering in store shopping and pickup.
Bon appétit! Did we miss you & would you like to be featured? Send us an email at info@neworleansfilmsociety.org