Thanks to all who joined, supported, and honored our 2019 Gala. You can see photos the Gala on our Instagram page and Facebook album.
---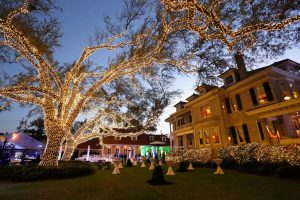 Join us in celebrating the 30th anniversary of the New Orleans Film Society with a night replete with gourmet dishes, craft cocktails, and unforgettable entertainment to support independent cinema in New Orleans.
Date: Saturday, March 16, 2019
Time: Patron Party 7pm-8pm & Gala 8pm-11pm
Live Auction: 8:30 pm
Location: The Farrell Estate, 4534 St. Charles Avenue
Gala Chairs: Elston and Deven Howard
Honorary Chairs: Lisa & Rick Farrell
Gala committee: Mamta Melwani & Karon Reese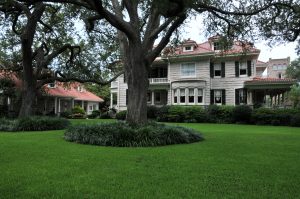 About the location:
The Mediterranean-style Smith House, now the Farrell Estate, was built in 1906 for the president of the New Orleans Cotton Exchange, William Smith. Our gracious hosts for the 2019 New Orleans Film Society Gala, Rick and Lisa Farrell, have lovingly restored the property to its historic grandeur, with an extensive collection of antiques and rare artwork.
About our 2019 Celluloid Hero:
This year's New Orleans Film Society Gala honors Susan Brennan, a life-long New Orleanian and the owner and developer of Second Line Stages, the first LEED Gold certified, state of the art, sustainable sound stages in the United States. Susan's immense contributions to arts & culture in New Orleans, and her pioneering vision for film infrastructure in our city, have made a lasting impact on our community.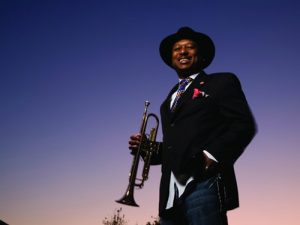 Entertainment: Moroccan master guitarist Mahmoud Chouki will perform live at the Patron Party. Legendary New Orleans native trumpeter Kermit Ruffins and the BBQ Swingers (left) will perform live later in the evening followed by dance tunes by DJ RQ Away.
TICKETS & REGISTRATION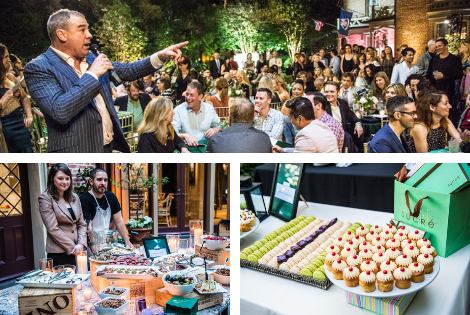 VIP Table Hosts and Patron Party guests who pledge their attendance by Friday, February 8, 2019, will be recognized in the printed invitation.
VIP Table* $3000.
Includes Patron Party tickets, dedicated seating and cocktail table service for eight guests.
Entry at 7pm. Prominent name in invitation.
*$2,400 of your ViP Table purchase is tax-deductible to the extent allowed by law.
Patron Party Ticket* $400 | $350 for NOFS Members.
Includes a Gala Ticket and name in invitation. Entry at 7pm. Name in invitation.
*$300 of your Patron Party ticket purchase at the non-member price is tax-deductible to the extent allowed by law, and $250 of your Patron Party ticket purchase at the member price is tax-deductible to the extent allowed by law.*
Guests of the Patron Party will have the opportunity to tour two levels of the home and toast the New Orleans Film Society's 30th anniversary with hors d'oeuvres by Marcello's, Drago's, and Galatoire's, and champagne by Piper-Heidsieck.
Gala Ticket* $300 | $250 for NOFS Members. Entry at 8pm.
Gala guests will celebrate under the romantic oak trees of the Farrell estate as the St. Charles streetcar rolls by. The gala features live music and dancing, a selection of New Orleans' top restaurants, craft cocktails, and an opportunity to bid on once in a lifetime experiences at a live auction.
*$225 of your Gala ticket purchase at the non-member price is tax-deductible to the extent allowed by law, and as a member, $175 of your Gala ticket purchase at the member price is tax-deductible to the extent allowed by law.*
Cocktails provided by Absolut Elyx, Buffalo Trace, Monkey 47, Glenlivet Founder's Reserve, Avión Tequila, and Malibu Rum. Delectable bites by Acme Oyster House, Chais Delachaise, Dat Dog, Dickie Brennan and Co., Greek Girls Rice Pudding, Joy the Baker, Ralph's on the Park, Shaya, Sucre, and Sylvain.
Members should log in to their account to receive a discount on gala tickets (appears once the ticket has been added to your cart). Please contact NOFS Development Director Jennifer Samani at jennifer@neworleansfilmsociety.org or 504-309-6633 with any questions about this event or related sponsorship opportunities, or if you would prefer to make offline purchasing arrangements.
MARQUEE TABLE HOSTS
ABS Productions
Alexa Georges & Jerry Armatis
Bond Moroch
Brent Day & Shelly Pecot
Desi Vega & Gerry Cvitanovich
El-amm & Associates LLC
Felicia Stallard
Jennifer Coolidge
Jones Walker LLP
Mamta Melwani & Rivers Spencer
Michael Collins
New Orleans Tourism & Marketing Corporation
NolaVid
Parker Roy
Prospect New Orleans
The Ranch Studios
Randy Fertel
Reel Security
PRODUCING TABLE HOSTS
Crescent Sterling, Ltd.
Elston & Deven Howard
GeChar Entertainment
Lesli Harris & Richard Perque
Mackie & Sandy Shilstone
Nathan Grant & Kunal Syngal
Reese & Co. Real Estate
Valerie M. Grubb
GALA PATRONS
Bonnie Wilson
Brent Caballero
Bryan Francher & Dan Brockhoeft
Dawn Wheelahan
Donna Santiago & Tony Ciaccio
E. Alexandra Stafford & Raymond Rathle Jr.
Elizabeth B. McNulty
Frances Oser
Fritz Westenberger & Thomas Sims
Glenn Gruber
Jason Waguespack & Jeffery Morgan
Jill Dupre & Josh Mayer
John Mueller
Jon Vogl, Apex Post Production
Kara Tucina Olidge
Katherine Cecil & Emile Dumesnil
Katherine & Tony Gelderman
La Mirande Wine Tours
Liz & Robbie Blum
Lelia Peyronnin
Mara & Stephen Kupperman
Marcia King Reck & Gothard J. Reck
Michael Adler
Miguel Solorzano
Monica Frois & Eve Barrie Masinter
Patricia Murphy
Peter Trapolin
Susan Currie
Susan Zackin
Tracie Ashe & Peggy Schipske
Vicki & Jimmy Lee
Dr. Vivian Norris & Dr. Charles Chamberlain III
Walton & Jeffrey Goldring
Z Event Company
The live auction, hosted by auctioneer Adam Marcus, will be held at 8:30 pm on March 16th, 2019, at the Farrell Estate.
If you'd like to bid on an item in absentia, please contact Jennifer Samani at jennifer@neworleansfilmsociety.org and (504) 309-6633.
LIVE AUCTION ITEMS