See and download photos from our beautiful Gala 2023 here and here. 
---
Join us for a magical night of New Orleans dishes, cocktails, and unforgettable entertainment as you support independent cinema in New Orleans.
Date: Saturday, April 22, 2023
Location: New Orleans Lakefront Airport, 6001 Stars and Stripes Blvd, New Orleans
6:30 PM to 8:00 PM: Patron Party
Music by Gladney and Cassie Watson Francillon
Bites by Shaya Restaurant, Galatoire's Restaurant, and Messina's at the Terminal
Sips by Lifted Spirits by Sylvain, Casa Luigi Prosecco, and Messina's at the Terminal
8:00 PM to 12:00 AM: Gala
Music by Robin Barnes & the Fiya Birds and a late night set by DJ FTK
Dishes by Copper Vine, Brewery Saint X, The Louisiana Seafood Company, Lil' Dizzy Cafe, Empanola, St. James Cheese Company, Window Sill Pies, Crumbl Cookies, and Fat Boy's Pizza
Drinks by Lifted Spirits by Sylvain, Casa Luigi Prosecco, and Messina's at the Terminal
Attire: Cocktail Attire
Honoring: Elston Howard as our Celluloid Hero and Edward Buckles Jr. as our Rising Star
Chairs: Elston and Deven Howard
Gala Committee: Laura Ashley, Carlos Carmona, Virginia McCollum, Lori Ochsner, Karon Reese, Elisabeth Sereda, Doug Spearman, and W. Howard Thompson
Tables
VIP Table (Seats 10) – $5,000
Gala Table (Seats 8) – $4,000
Tickets
Gala Ticket with Patron Party – $550 General | $500 for NOFS Members
Gala Ticket – $450 General | $400 for NOFS Members
See the full details and purchase your table or tickets below.
If you're viewing on your phone, please click Launch Full Schedule to select tickets or tables to purchase.
Each year, the New Orleans Film Society honors noted figures in the film industry, especially the Louisiana film industry. Past galas have honored John Goodman (2011), the Beasts of the Southern Wild director, Benh Zeitlin (2012), Matthew McConaughey (2015) – who delivered his famous love letter to New Orleans, the cast of NCIS New Orleans (2016), Susan Brennan (2019), and Alexa Georges (2022).
---
New Orleans Film Society 2023 Gala Celluloid Hero: Elston Howard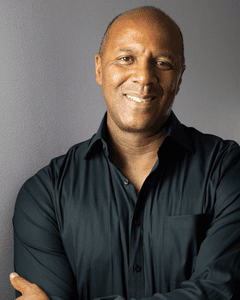 Producer. Department Head. Lead location manager. It would be easier to list what Elston James Howard has not done for this city's film industry than his many contributions and accomplishments. A New Orleans native whose film career started during the summer of 1992, he is a graduate of Holy Cross High School, Class of 1983, and has a bachelor's degree from Dillard University in Business Administration and Computer Science.
His film experience, which started with the critically acclaimed movie JFK, directed by Oliver Stone and starring Kevin Costner, was the foundation to 26 years of film experience. Since then, he has done over 40 television and motion picture features. Among the list of iconic New Orleans films are Runaway Jury, The Pelican Brief, starring Denzel Washington and Julia Roberts, Interview with a Vampire, Taylor Hackford's Ray (with Jamie Foxx in the title role), Never Go Back, Girls Trip, GI Joe 2, Green Lantern, Fantastic 4, Gambit, and Causeway (with Jennifer Lawrence). This variety of productions with major studios like Warner Bros., Paramount Pictures, and 20th Century Fox among them has allowed him to communicate and establish relationships with top studio executives.
In addition to his hands-on experience as a department head and leading location manager in the film industry, Elston has been able to contribute to the local development and hiring of new talent in the industry. During the spring of 2017, his hard work and dedication made him eligible to be voted into the Academy of Motion Picture Arts and Sciences (category: production design).  This rare acceptance makes him one of only three location managers who are members of the Oscars' voting body. He is also a member of the Location Managers Guild International, a nonprofit organization for the top location managers around the world.
Elston Howard's relentless passion to produce major motion pictures in the film industry will continue to have an everlasting impact on the industry in Louisiana and around the world for many years to come.
---
New Orleans Film Society 2023 Gala Rising Star: Edward Buckles Jr.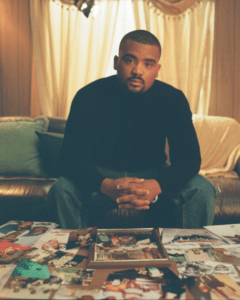 At only 30 years old, this son of New Orleans has achieved critical acclaim in the film industry, with his first documentary, Katrina Babies, which has won awards and is streaming on HBO Max.
Edward Buckles Jr.'s non-linear path to filmmaking has birthed a brand of visual storytelling – an aesthetically beautiful marriage between fine art and guerrilla style documentation. Buckles' work calls his audience towards remembrance and to see the beauty in imperfections. The ground-breaking filmmaker, director, and producer continues to find inspiration in his people and innovative ways to share the stories of Black communities that would otherwise be lost in the passing of time.
He was 13 years old when Hurricane Katrina struck his hometown in 2005. The storm wiped away his home, his community, and something slightly less tangible, but no less important."I lost my childhood because of that storm," Buckles has written, "and it drastically impacted the rest of my life."
In his debut film, Buckles tries to understand the impact of Katrina on those like him who were kids in New Orleans when the hurricane decimated all they knew. His conversations with cousins, friends and others reveal a common sense of unprocessed trauma. Before the documentary, they hadn't been given the chance to talk about all they had experienced. "After losing so much, why wouldn't anyone ask if we were okay?" Buckles wonders in voiceover in the film. "Nobody ever asked the children how they were doing."
That he did ask – himself and his contemporaries – resonated deeply with the audience and led to the documentary being a contender at festivals and award shows. It has recently won two prizes at Tribeca Festival, including its inaugural Human/Nature Award and The Albert Maysles Award for Best New Documentary Director. Katrina Babies also was nominated for Best Feature Documentary at the International Documentary Association (IDA) Awards, and landed the August 2022 digital cover of Time Magazine which included a conversation between Buckles' and award-winning journalist Soledad O'Brien.
His production company, House of the Young Ent, is a beacon in the New Orleans' arts community and a platform for the culture of the city.
VIP Table Hosts
ABS Productions
Alexa Georges & Jerry Armatis
Basecraft
Susan Brennan
Jennifer Coolidge
Deep South Studios
Element
Elston & Deven Howard
Jones Walker LLP
Pelican Events
Quixote Studios & Magnolia Properties
Karon Reese
Reel Security
Table Hosts
Carlos Carmona
D. Santiago & A. Ciaccio
Monique & Jason Doucette
Katherine & Tony Gelderman
Cary Grant & Deborah Elam Grant
Beverly & Dr. Robert Matheney
Mamta Melwani
Virginia McCollam & Andy Ryan
Doug Spearman
W. Howard Thompson
Gala Patrons
Gus Anderson
Lawrence Angrisani
Andy Armstrong
Laura Ashley
Gail Bertuzzi
Sarah Bienes
Brett Blanchard
Karen Brown
Katherine Cecil
Michael Collins
Michael Corchiani
Tina Dang
Cindy Dunn
Will Erickson
Monica Frois
The Gambit
Grace Gibson
Jeff Goldring
Valerie M. Grubb
Max Hirschfield
Jimmy Hornbeak
Sasha Ione
Lollie Jensen
Tarun & Rupa Jolly
Charlie Lau
Jimmy & Vicki Lee
Monica Leprêtre
Alix Paige & Dodd Loomis
Anna Thomas & Tim Lucas
Kimy Mathews
Clara Mohamed
Scott James & Gregory Morey
Carroll Morton
John Mueller
Hai Nguyen
Lori Ochsner
Alex & Leslie Palmerlee
Dr. David Pine
Meryl Poster
Shane Hubbs & Ashley Rayborn
Allie Reese
Kathryn & Jeff Scurlock
Fritz Westenberger & TQ Sims
Pilar Tarry
Jeff Teague
Penelope Treece MD
Polly Watts
Ariel Wilson-Harris
Katie Winters
WWNO
The Times-Picayune | nola.com
Interested in partnering with the New Orleans Gala 2023? Email katherine@neworleansfilmsociety.org.
---
THANK YOU TO OUR 2023 SPONSORS + PARTNERS!
Sponsors
Restaurant + Drink Partners
Media Partners
The gala is NOFS's largest fundraiser and directly supports the work of independent filmmakers. Thank you to all who joined, supported, and honored the New Orleans Film Society at our previous galas.
See photos from our beautiful Gala 2023 honoring Elston Howard as our Celluloid Hero and Edward Buckles Jr as our first Rising Star held on April 22 at the New Orleans Lakefront Airport here and here. 
See photos from the magnificent 2022 Gala honoring Alexa Georges held on April 2 at the Four Seasons New Orleans on our Instagram page and Facebook album.
See photos from the 2019 30th Anniversary Gala at the enchanting Farrell Estate on St. Charles Avenue here.
See photos from the 2018 Midnight in the Garden Gala here and step & repeat here.
See photos from the 2017 Gala at the Magnolia Mansion here.
See photos from the 2016 Gala honoring the cast of NCIS New Orleans here.
See photos from the 2015 Gala honoring Matthew McConaughey here.
CODE OF CONDUCT
Please join us in embracing our community guidelines at all NOFS events by:
Acknowledging with gratitude the land we occupy

as the colonized Indigenous space known first as Bulbancha

Sustaining authentic relationships with our neighbors

, especially the Afro-descendent communities that continually shape New Orleans

Including people equitably

of every race, ethnicity, gender identity and expression, ability, sexual orientation, nationality, religion, age, physical appearance, language, citizenship, and socioeconomic status

Protecting each other's health

amidst an ongoing global pandemic

Treating others with dignity and respect

, especially NOFS volunteers and staff implementing NOFS policies and procedures

Enjoying alcohol and other refreshments responsibly

and mindfully
We will not permit:
Disruptive behavior of any kind

that interferes with NOFS events

Non-compliance with the direction of NOFS staff and volunteers

regarding NOFS policies and procedures

Verbal or physical harassment

, including abusive language and gestures, threats, cursing, or sexual language directed at others

Any form of discrimination or harassment

, including, but not limited to, racism, homophobia, transphobia, ableism, sexism, or body shaming

Using firearms or other dangerous weapons in NOFS spaces

to intimidate or harm volunteers, staff, or attendees
By purchasing a ticket and entering NOFS event spaces, you agree to join us in this Code of Conduct. If you are found to be in violation of these agreements, you may be removed from events by a designated staff member. If you witness or experience a violation of these agreements, we encourage you to report the incident anonymously via this form or by email at info@neworleansfilmsociety.org.
By entering NOFS event spaces, you consent to photography and recording (audio and video) and its release, publication, exhibition, or reproduction to be used for news, webcasts, promotional purposes, telecasts, advertising, inclusion on websites, social media, or any other purpose by NOFS and its affiliates and representatives.