OPEN POSITIONS
---
FESTIVAL RUNNER
Supervisor: Transportation Coordinator
Contract Dates: October 18th-21st, 2018
Principal Duties:
Transport guests of the festival between hotels, events, and various venues involved with the festival in a professional manner
Run airport and after-party shuttles for festival guests
Provide festival guests with a positive experience as the first impression of NOFF
Communicate with the transportation coordinator after every arrival and departure and if guests express any issue
Experience/Skills Required:
Clean driving record (parking tickets are okay)
Must work calmly under high-pressure situations and in hectic environments
Has a valid driver's license
Working smart phone with data plan
Must be able to comfortably drive a 15-passenger van around the city
Ability to be flexible if there is a need to change the schedule and shift priorities
Be able to step into unexpected roles if need arises
If you are interested in this position please contact Alexus Fisher at alexus@neworleansfilmsociety.org.
---
If you are interested in working with the New Orleans Film Society, please send your resume and cover letter to jobs@neworleansfilmsociety.org. 
---
Available positions are posted here on our website and in our e-newsletter. Subscribe to the newsletter to stay informed about new opportunities.
INTERNSHIPS
New Orleans Film Society is always seeking enthusiastic interns! Internships are offered throughout the year in different departments: Programming, Operations, Marketing, and Development. All positions are unpaid, but we offer yearly membership and a festival pass as our form of appreciation.
Length: flexible
Hours: Weekly commitment of around 15-18 hours each week.
Office hours are Monday-Friday 10 a.m.-6 p.m.
Please send a resume and cover letter to jobs@neworleansfilmsociety.org, include "internship" in the subject line of your email. Please, no phone calls.
---
Festival Intern
The NOFF Volunteer Program intern will work directly with the Volunteer Coordinator to assemble schedules, shifts, create promotional materials, and oversee the Street Team pre-festival; they will also provide daily aid during NOFF (October 17-25).
Hours/Days are flexible upon scheduling with the Volunteer Coordinator. Email Nicole Oria with your resume to apply.
---
New Orleans Film Society is also a partner with the following universities:
Loyola University – Work-Study Program
University of Chicago – Metcalf Fellowship
Bennington College –  Field Work Term program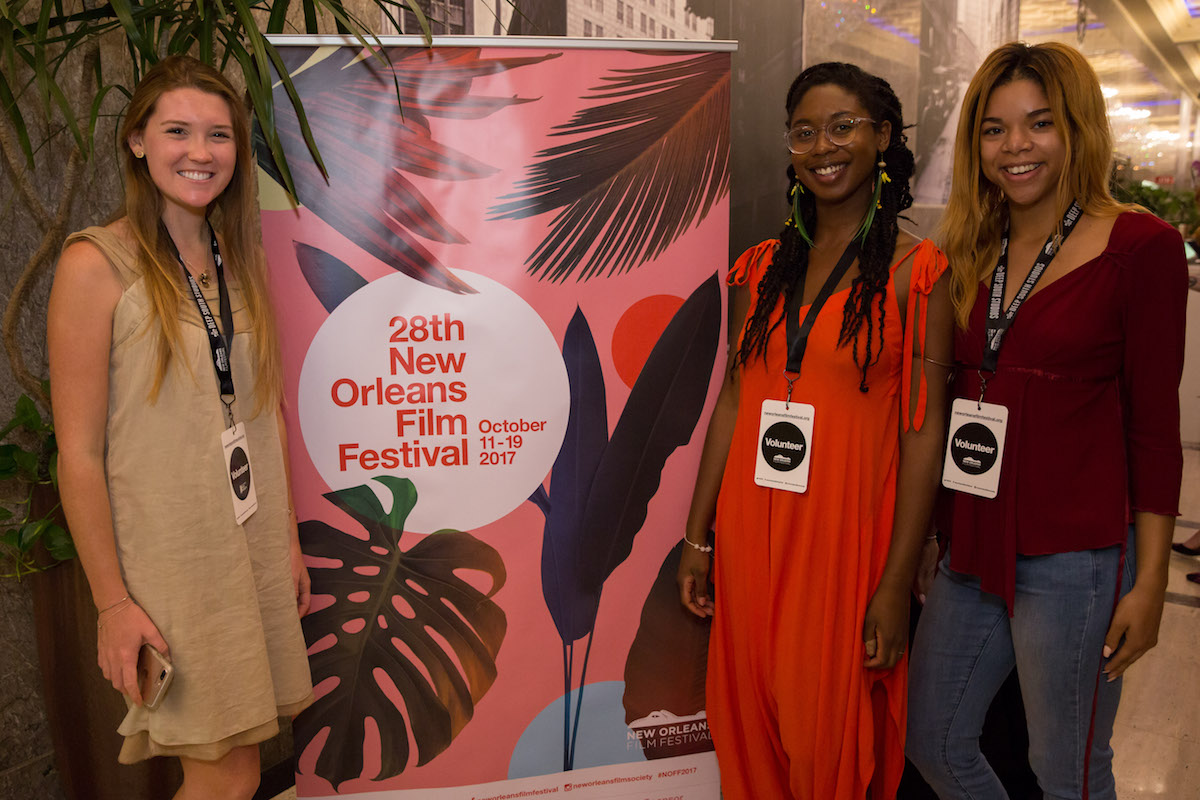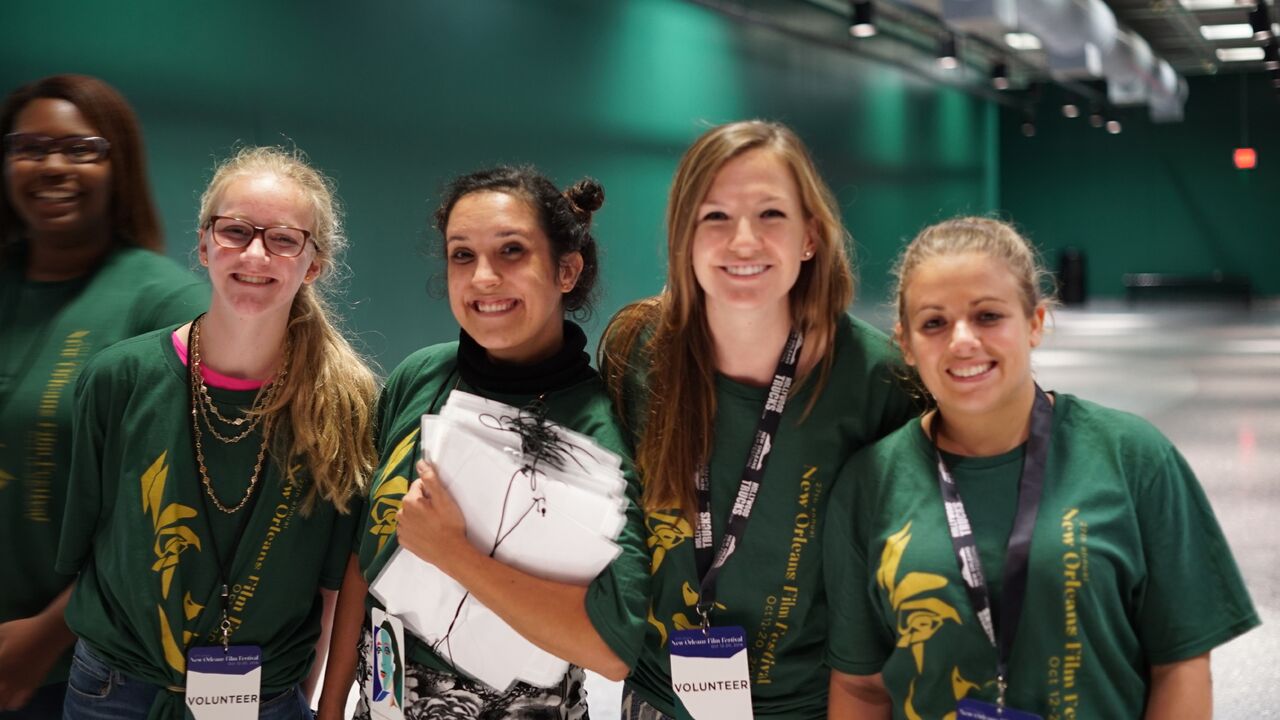 NEW ORLEANS FILM FESTIVAL 2018
VOLUNTEER PROGRAM
About Volunteering
The New Orleans Film Festival relies on the generosity and dedication of hundreds of volunteers. We seek individuals who share a passion for supporting independent and diverse filmmaking. Volunteers are the face of this festival and we couldn't do it without you!
Check out the detailed breakdown of the Volunteer Program below and see how you can join this stellar team of volunteers.
How To Volunteer for the New Orleans Film Festival
Once you decide to jump on board, fill out these forms to stay in the loop on sign ups!
Contact Us
If you have any questions that are not addressed here, please feel free to contact the Volunteer Coordinator, Nicole Oria,  at Volunteer@neworleansfilmsociety.org
Volunteer Requirements
Flex Volunteers
Must commit to a minimum of 3 shifts each lasting 4 hours

Ability to set own schedule & sign up for shifts through Volunteer Mark

1 voucher awarded per 4 hour shift

May be moved to a different volunteer job if need be
½ Festival Volunteers
Must commit to 24+ hours

Set a schedule with some flexibility

Access to films and festival parties*

New Orleans Film Society Membership awarded after the festival
Festival Interns
Must commit to work the entire festival

Must apply for a position and interview with the Volunteer Coordinator

Schedule set by Volunteer Coordinator

Access to films and festival parties*

Will be scheduled to specific venues

New Orleans Film Society Membership awarded after the festival
Volunteer Benefits
Vouchers
Awarded after each four-hour shift.  Can be exchanged for a ticket to any film that is not sold out.
Merchandise Exchange
Volunteers can exchange 4 unused vouchers for a merchandise voucher

A merchandise voucher is valid for one item from the merchandise vendor
Memberships
Awarded to anyone who logs 20+ volunteer hours

Membership benefits include advanced tickets for our festivals, 15+ free exclusive screenings throughout the year, and discounts on our tickets, passes, events, and merchandise.

Click

here

for more information about NOFS memberships
#NOFF2018 Pass
An All-Access Pass will be awarded to Volunteers who log 30+ hours pre-festival

Must be 21+ years of age

If a volunteer is under 21, an Unlimited Film Package Pass will be awarded

Click

here

for more information about NOFF Passes
Access to Parties
Volunteers who are part of the event team will have the opportunity to attend the parties depending on their specific jobs

Must be 21+ years old
Volunteer Lounge
Volunteers will have access to the staff and volunteer green room in the CAC

There will be snacks and drinks, as well as food on occasion the Volunteer Lounge
Raffle
Any volunteer that commits 20+hours will be entered into a raffle for a chance to win FFF pass, 2019 NOFF pass, a NOFF Swag Bag, Scene Stealer Membership, and more prizes!
Post Festival Party
Once the festival is over, a Volunteer Appreciation Party will be planned to thank you for all your hard work.