OPEN POSITIONS
OFFICE AND CUSTOMER SERVICE ASSISTANT
We are looking for an administrative perfectionist who can efficiently run an office space for around 8 staff members, with additional number of seasonal staff during the New Orleans Film Festival, plus coming in and out interns and volunteers. See more and apply here.
---
If you are interested in working with the New Orleans Film Society, please send your resume and cover letter to jobs@neworleansfilmsociety.org. 
Available positions are posted here on our website and in our e-newsletter. Subscribe to the newsletter to stay informed about new opportunities.
INTERNSHIPS
New Orleans Film Society is always seeking enthusiastic interns! Internships are offered throughout the year in different departments: Programming, Operations, Marketing, and Development. All positions are unpaid, but we offer yearly membership and a festival pass as our form of appreciation.
Length: Flexible
Hours: Weekly commitment of around 15-18 hours each week
Office hours are Monday-Friday 10 a.m.-6 p.m.
Please send a resume and cover letter to jobs@neworleansfilmsociety.org, include "internship" in the subject line of your email. Please, no phone calls.
---
New Orleans Film Society is also a partner with the following universities:
Loyola University – Work-Study Program
University of Chicago – Metcalf Fellowship
Bennington College –  Field Work Term Program
Volunteer for the 2019 New Orleans Film Festival!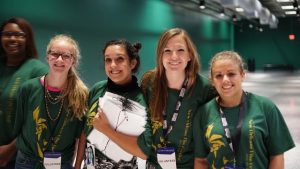 About Volunteering 
The New Orleans Film Festival relies on the generosity and dedication of hundreds of volunteers. We seek individuals who share a passion for supporting independent and diverse filmmaking.  Volunteers are the face of this festival and we couldn't do it without you! 
Check out the detailed breakdown of the Volunteer Program below and see how you can join this stellar team of volunteers.
How To Volunteer for the New Orleans Film Festival 
#NOFF2019 Volunteer Schedule is now available. Click the link below to apply!
Volunteer Application
Contact Us
If you have any questions that are not addressed here, please feel free to contact the Volunteer Coordinator, David Melerine,  at volunteer@neworleansfilmsociety.org 
Volunteer Levels and Requirements
General Festival Volunteers 
All volunteers are required to attend one training session, exact date TBD.

Volunteer shifts last a minimum of four hours.  

1 voucher awarded per 4 hour shift
Ensemble Level Volunteers 
Must commit to a minimum of 3 shifts each lasting 4 hours 

Ability to set own schedule & sign up for shifts through Volunteer Mark

1 voucher awarded per 4 hour shift

Will be entered into a raffle for a chance to win FFF pass, 2020 NOFF pass, a NOFF Swag Bag, Scene Stealer Membership, and more prizes! 
Leading Level Volunteers 
Must commit to 24+ hours 

Set schedule with some flexibility 

Access to films and festival parties*

New Orleans Film Society Membership awarded after the festival
Festival Interns
Must be available for the entire Festival, Oct 16th-23rd

Must apply and interview with the Volunteer Coordinator

Schedule and tasks set by Volunteer Coordinator

Access to films and festival parties*

New Orleans Film Society Membership awarded after the festival
1-2 training sessions will be required for volunteers at every level, date tbd.
Volunteer Benefits
Film Vouchers
 Awarded after each four hour shift.
Festival Merchandise
Memberships 
Awarded to anyone who logs 20+ volunteer hours 

Membership benefits include advanced tickets for our festivals, 15+ free exclusive screenings throughout the year, and discounts on our tickets, passes, events, and merchandise.
NOFF Pass*
An All-Access Pass will be awarded to Volunteers who log 30+ hours pre-festival


All-Access Passholders

are granted free admission to all festival screenings with reservations, early access to online reservations, access to Festival VIP Lounge at the New Orleans Advocate, entrance to exclusive NOFF 2018 parties and receptions every night of the Festival, priority entrance to all screenings, and advanced copy of the Program Guide.
Access to Parties*
Volunteers who are part of the event team will have the opportunity to attend the parties depending on their specific jobs
Volunteer Lounge
Post Festival Party 
Once the festival is over, a Volunteer Appreciation Party will be planned to thank you for all your hard work. 
* Must be 21+ to attend parties.