OPEN POSITIONS
If you are interested in working with the New Orleans Film Society, please send your resume and cover letter to jobs@neworleansfilmsociety.org. 
Available positions are posted here on our website and in our e-newsletter. Subscribe to the newsletter to stay informed about new opportunities.
INTERNSHIPS
New Orleans Film Society is always seeking enthusiastic interns! Internships are offered throughout the year in different departments: Programming, Operations, Marketing, and Development. All positions are unpaid, but we offer yearly membership and a festival pass as our form of appreciation.
Length: Flexible
Hours: Weekly commitment of around 15-18 hours each week
Office hours are Monday-Friday 10 a.m.-6 p.m.
Please send a resume and cover letter to jobs@neworleansfilmsociety.org, include "internship" in the subject line of your email. Please, no phone calls.
---
New Orleans Film Society is also a partner with the following universities:
Loyola University – Work-Study Program
University of Chicago – Metcalf Fellowship
Bennington College –  Field Work Term Program
Volunteer for the 2020 New Orleans French Film Festival!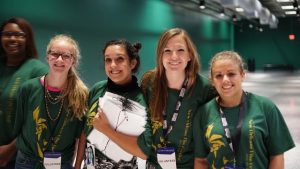 About Volunteering 
The French Film Festival relies on the generosity and dedication of volunteers. We seek individuals who share a passion for supporting contemporary and classic Francophone Cinema. We couldn't do it without you!
Check out the detailed breakdown of the Volunteer Program below and see how you can join this stellar team of volunteers..
The application deadline is February 14, 2020. 
Click Here to Apply
Contact Us
If you have any questions that are not addressed here, please feel free to contact us at volunteer@neworleansfilmsociety.org 
Volunteer Levels and Requirements
Festival Volunteers 
Volunteer during festival dates February 27 – March 4, 2020.

Volunteer shifts last approximately 4 hours.  

1 ticket awarded per shift.
Festival Prep Volunteers
Volunteer in weeks before French Film Festival to prepare materials.

Volunteer for the street team to promote the festival in February.

1 ticket awarded per shift.
Volunteer Benefits
Film Vouchers
 Awarded after each four hour shift.
Festival Merchandise
Memberships 
Awarded to anyone who logs 20+ volunteer hours.

Membership benefits include advanced tickets for our festivals, free exclusive screenings throughout the year, and discounts on our tickets, passes, events, and merchandise.