The 25th New Orleans French Film Festival, one of the longest-running foreign language festivals in the country, will showcase excellence in contemporary and classic francophone Cinema between March 11-17, 2022 at the historic Prytania Theatre. All films will be screened with English subtitles. Download the PDF of the festival brochure here.
Festival passes are now on sale! Individual tickets will be available on February 2nd for our members and festival passholders to book and will go on sale for the general public on February 9th.
The 25th New Orleans French Film Festival pays homage to the legendary Polish director Krzysztof Kieślowski and his Francophone magnum opus: Trois couleurs (Three Colors Trilogy).
The festival brings together 16 narrative and 3 documentary features alongside 4 short films, all French-language with English subtitles, from Belgium, Canada, Chad, France, French Guiana, Peru, Poland, Switzerland, and the USA.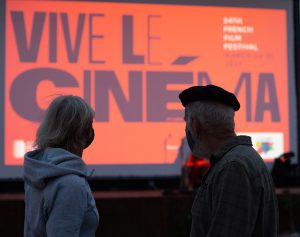 Live music will accompany a curated selection of French-language films and a program of short films. On March 10, a dedicated audience of Francophiles, cinephiles, sponsors, and members of the New Orleans Film Society's Producer's Circle, Executive Producer's Circle, and Director's Circle will join an invite-only Patron Party.
Would you like to volunteer at the French Film Festival? Learn more and apply here.
---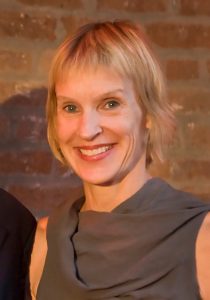 In Memoriam: Ellen Johnson

The New Orleans arts community lost a prominent presence last year with the passing of Ellen Jester Johnson. A staunch supporter of film, Ellen served as the public relations manager for the New Orleans Film Festival in the early years of the organization–– and later, she served as a board member of the New Orleans Film Society and was named Board President in 2007. Particularly fond of independent cinema and fashion documentaries, Ellen believed sitting in a dark theater watching a good movie was a potion that could cure almost anything. She was a regular fixture at both the New Orleans Film Festival and the French Film Festival, and we proudly dedicate the 2022 New Orleans French Film Festival to her memory.
---
Watch the French Film Festival 2022 Trailer!
Video by Benjamin Eldon Davis.
TICKETS
The Prytania Screening Tickets –– NOFS Members $12 | General $15
Virtual Cinema Tickets –– NOFS Members $8 | General $10
In-Person + Virtual Combo Ticket –– NOFS Members $15 | General $20
Want to attend a screening and stream at home? Save $5 on both tickets by purchasing a bundle ticket, available on events that screen both ways.
PASSES
New Orleans Film Society's Scene Stealer and above-level members receive complimentary French Film Festival patron passes. Moviegoer and Take Two members get up to $15 off on passes.
The complete festival lineup & schedule will be announced here on January 26, 2022.
French Film Festival Premiere Sponsors
French Film Festival Feature Sponsors
French Film Festival Supporting Sponsor
French Film Festival Lead Media Sponsor
French Film Festival Media Partner
CODE OF CONDUCT
Thank you for joining the 25th New Orleans French Film Festival. We invite you to embrace our community guidelines and safety protocols upon entering the festival space:
For those gathering physically, acknowledge that we are gathering in "New Orleans," which occupies an Indigenous space known as "Bulbancha," a Choctaw word meaning "the Place of Other Languages"
Center and respect the neighbors, communities, and histories of and around this space
Keep equity and inclusivity in focus and be respectful of people of every race, ethnicity, gender identity/expression, disability, sexual orientation, nationality, religion, age, physical appearance, or body size, language spoken, and immigration or economic status
Protect the health of one another amidst an ongoing global pandemic
Stay curious and listen deeply, rather than just wait for your turn to speak
Be mindful of how we share power, earn trust, and all that we bring into the room
Be aware that drinking alcohol can be triggering to some people. We encourage responsible and mindful drinking.
Be considerate of the work of artists by refraining from phishing and pirating the work of filmmakers
We will not tolerate:
Racism, homophobia, transphobia, ableism, sexism, body shaming, or any form of discriminatory language or hate speech
Violence
Sexual harassment
White supremacist speech or actions
Interrupting a screening or festival event
Aggressive or threatening behavior towards artists, audience members, festival staff, and volunteers
Non-cooperation with festival staff or volunteers
The New Orleans Film Society strives to provide inclusive and accessible festival spaces and gatherings, clearly noting barriers to accessibility when present and seeking feedback for how we can improve.
If you witness or experience a violation of these guidelines, you are encouraged to report it either anonymously or with attribution. For anonymous reporting or feedback, please fill out this form linked in each ticket confirmation email. Or send us an email at info@neworleansfilmsociety.org for reporting with attribution.
By entering the event premises, you consent to photography, audio recording, video recording and its/their release, publication, exhibition, or reproduction to be used for news, webcasts, promotional purposes, telecasts, advertising, inclusion on websites, social media, or any other purpose by NOFS and its affiliates and representatives. Images, photos, and/or videos may be used to promote similar NOFS events in the future, highlight the event and exhibit the capabilities of NOFS.
Our code of conduct was influenced by organizations like BlackStar Film Festival, Capacity Interactive, Creative Time, Perspective Fund, and Sundance Film Festival.
COVID Safety
NOFS cares about the health and wellness of our staff, volunteers, artists, and audience members. Below precautions will be taken during the New Orleans Film Festival for the safety of our community:
NOFS will monitor City of New Orleans COVID Restrictions and CDC public health guidelines; any changes to our practices and protocols will be communicated on our website and by email to ticket and passholders.
Guests will need to show a vaccination card or negative COVID test taken within 72 hours of the event date.

Proof of vaccine includes LA Wallet APP SMART Health Card, an original, digital photograph or photocopy of CDC Vaccination card (both sides), or official vaccine record issued by another state, a foreign nation, or the WHO.
For local resources, including vaccination and testing sites, click here.

Masks will be required for all members of the public, staff, and volunteers regardless of vaccination status, and will be provided if needed.
Transactions will be contactless (cash or check payments won't be accepted), only credit and debit cards, as well as Apple and Google Pay.
NOFS retains the right to decline entry into a film screening or event, without a refund, for anyone who refuses to comply with these safety guidelines, including wearing a mask.
Sanitizing stations will be present throughout festival grounds.
Due to the fact that only a portion of all films playing online offer accessible features, we offer 50% off passes for those unable to access all the films in the Virtual Cinema to compensate for this limitation. Please call (504) 309-6633 or email info@neworleansfilmsociety.org to receive a discount code to buy the pass. 
English subtitles:
All foreign-language films at the Festival are screened in their original language and English subtitles will be provided. 
Personal accessibility devices (Dolby Captiview and Fidelio wireless audio systems) will be available free of charge on-site at the Prytania Theatre. To check out a device, please see any door usher prior to finding your seat. They will connect you with our Technical staff who will walk you through the device usage. A photo ID will be required to check out any device which will be held and returned to you following the equipment return. All devices will be cleaned and handled according to strict, recognized protocols to avoid the spread of COVID-19.  
French Film Festival is happy to provide American Sign Language interpreters at no charge for anybody who requests in advance. Please contact NOFS at info@neworleansfilmsociety.org or call at 504-309-6633.
Venues with Closed Captioning:
The venue is equipped with Closed Captioning devices. 
Venues with Assisted Listening:
The Prytania Theatre is equipped with Assisted Listening capabilities. 
For the films providing these services, we feature Dolby Fidelio wireless audio systems that deliver both Hearing Impaired (HI) for hard-of-hearing patrons, and Visually Impaired Narration (VI) for visually impaired patrons.
Wheelchair accessibility:
The Prytania Theatre is wheelchair accessible.
Companion Tickets for Accessibility Needs:
​​We are pleased to offer 50% off companion tickets for those assisting other patrons with accessibility needs at in-person screenings. 
Please call 504-309-6633 or email: info@neworleansfilmsociety.org your name and the guest you'll be assisting and you will receive a discount code to book tickets or passes online. 
Should you need personal assistance, please contact us in advance of the festival via email or phone, or at the venue box office on site. 
CUSTOMER SERVICE 
We are available during regular business hours 10am – 6pm CST Monday-Friday. You can contact us in different ways:
Chat with us by clicking the teal "Contact Us" envelope icon in the bottom right corner of our website,

Email us at info@neworleansfilmsociety.org, 

Call us at (504) 309-6633.
During the days of the in-person screenings (March 11 – 17) we will be available every day from 10am – 7pm CST.