The 3rd annual South Summit will be held on March 3-4, 2021. New Orleans Film Society organized its inaugural South Summit in 2018, with a goal of convening just a small portion of the robust brain-trust that gathers at our flagship event, the New Orleans Film Festival. Since its inception, more than 100 national, regional, and local media stakeholders have participated in the convening.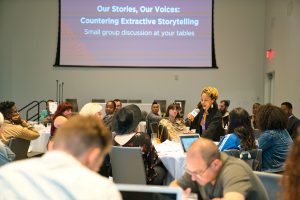 Through the Summit, we endeavor to collectively envision what it means for Southern filmmaking to thrive. The South Summit is designed to spark collaborative ideation among artists and institutional leaders, expand networks, and spotlight strong work being done across the region by Southern artists.
At the summit, we hear directly from filmmakers and thought leaders whose work inspires us to imagine new possibilities for a Southern identity and the nation's understanding of our region, and map the challenges and opportunities unique to our region. Topics explored at the South summit include: accountable curation in the south, countering extractive storytelling, and the challenges, needs and strengths/assets of Southern artists.
We hope that the resulting documents will be impactful for organizations who wish to better understand and resource the Southern film community–– it was created to be shared & to instigate sharing, and we look forward to your thoughts!
Click here to read the 2019 South Summit Report Click here to read the 2018 South Summit Report
Additional Resources
In an effort to broaden the dialogue to include many important voices who could not be in the room, New Orleans Film Society, in 2018 NOFF also surveyed 100 filmmakers from 12 Southern states, including Alabama, Florida, Georgia, Kentucky, Louisiana, Mississippi, North Carolina, Oklahoma, South Carolina, Texas, Tennessee, and Virginia. 22 industry representatives also completed the survey. View the survey results in full here. 
For a list of funds, programs, and other resources specifically designed for Southern filmmakers and addressed during the South Summit, visit: http://bit.ly/southernfilmresources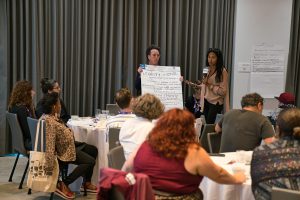 We deeply appreciate the generosity of spirit with which our participants reflected and visioned with us as part of the South Summit. We look forward to continuing and deepening this conversation in partnership with other festivals and organizations, and at the New Orleans Film Festival to come.