In Memory of John Desplas
John Desplas was a founding member of the New Orleans Film Society in 1989, serving as its Artistic Director for 26 years and in the role of Artistic Director Emeritus until his passing. Born and raised in New Orleans, John Desplas graduated from the University of New Orleans and wrote film reviews for the weekly New Orleans publication Figaro before helping start the annual New Orleans Film Festival, which grew into the non-profit organization the New Orleans Film Society, which now offers year-round cinema exhibition and professional development programs for independent filmmakers.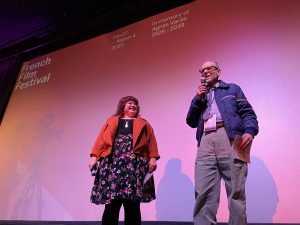 Through his involvement with the Film Society, John helped expand an appreciation of film as an aesthetic endeavor as well as an entertainment medium. His efforts helped bring the work of local, national, and international filmmakers to New Orleans audiences during a period of radical technological change in the presentation of the moving image.
Over the course of 31 years, John witnessed the transformation of the New Orleans Film Festival from a mostly parochial event to one acknowledged by the Academy of Motion Picture Arts and Sciences and ranked among the most respected regional festivals in the country, reaching annual audience sizes of over 30,000 attendees.
During his tenure, John helped to bring in such luminaries as Francis Ford Coppola, Todd Solondz, Charles Burnett, Richard Linklater, Alan Cumming, and others. Another highlight was moderating a post-film discussion with director Steve McQueen, cinematographer Sean Bobbitt, and actors Chiwetel Ejiofor, Lupita Nyong'o, Sarah Paulson, and Alfre Woodard following the New Orleans Film Festival's Opening Night screening of the Oscar-winning feature 12 Years a Slave.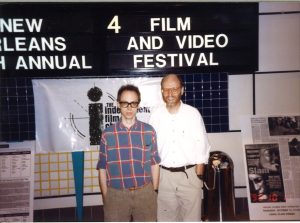 John represented the organization at events like the SXSW Film Festival, Toronto International Film Festival, the FestForums conference, and was a recurring juror for the Fairhope Film Festival, and, of course, frequently introduced films at New Orleans Film Society events across New Orleans. Film Society members looked forward to his spirited and informed insights, whether through film descriptions, introductions, or moderated talks with filmmakers. John was known to engage audiences in the lobby to learn about their impressions of a film, and could always be counted on for a tailored recommendation.
In addition to the New Orleans Film Festival, John spearheaded the launch of the New Orleans French Film Festival in 1997, which has continued annually under his curatorial leadership, including the most recent edition which took place in February of this year at the Prytania Theatre, during which John programmed one of his favorite films, The Umbrellas of Cherbourg, from director Jacques Demy.
"The first French Film I saw was Les Quatre Cent Coups of François Truffaut," John once said in an interview. "It was then that I fell in love with French movies."
In 1995, he was honored with the title of "Chevalier de l'Ordre des Arts et des Lettres" by the Ministry of Culture of the French Government in recognition of his efforts to widen the domestic audience for films from throughout the world.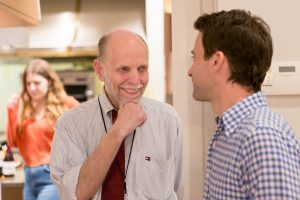 Among his other professional achievements was the launch of Film-O-rama, a weeklong showcase at the Prytania Theatre of new foreign-language features, documentaries, and arthouse fare, which ran from 2010 to 2015, filling a critical gap in the ability to access first-run independent features, and engaging audiences of more than 4,000 annually.
In 2015, John was recognized by the Arts Council of New Orleans as one of their Community Arts Awards Honorees and accepted the award during a gala event at the Civic Theater.
John will be dearly missed by the past and present staff, Board of Directors, and members of the New Orleans Film Society, and local cinephiles throughout New Orleans. New Orleans Film Society welcomes the sharing of memories about John on its Facebook page, and offers an album of photos of John taken over several decades.
In his loving memory,
New Orleans Film Society