We are proud to announce that the New Orleans Film Festival is once again named on the list of the "50 Festivals Worth the Entry fee" by MovieMaker Magazine! 
MovieMaker wrote—"NOFF's policy of transparency includes a Programming Practices document assembled by its 12-member programming team — which is as diverse as New Orleans itself. Available on the festival's Film Freeway page, it outlines values that include, "We counter extractive storytelling by championing regionalism and supporting the creative leadership of those closest to the stories being told," and "We create space for confrontational art and nontraditional artistic approaches." It regularly pays screening fees, helps with lodging when possible, and offers plenty of food at the VIP lounge, party and receptions. Last year's films included an opening night screening of The Inspection, an especially significant event because the festival has programmed past shorts by its director, Elegance Bratton. The fest closed with Music Pictures, a very New Orleans story about musicians Irma Thomas, Ellis Marsallis, Little Freddie King and the Tremé Brass Band, followed by live performances by many of the artists in the film. Industry representatives on hand have included Criterion, Black Film Archive, POV/American Documentary, ABC, Louisiana Public Broadcasting, ReelSouth, Black Public Media, Tessa Thompson's Viva Vaude, and I'd Watch That. And New Orleans is one of the top cities on our list of the Best Places to Live and Work as a Moviemaker."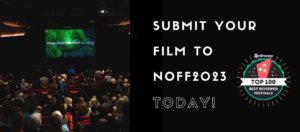 Now's the best time to submit your film to the 34th New Orleans Film Festival, taking place November 2-7 (November 3-12 virtually) in venues across the city with in-person events, parties, panels, filmmaker pitches, and much more!
Click here to learn more information and submit your film to NOFF 2023!