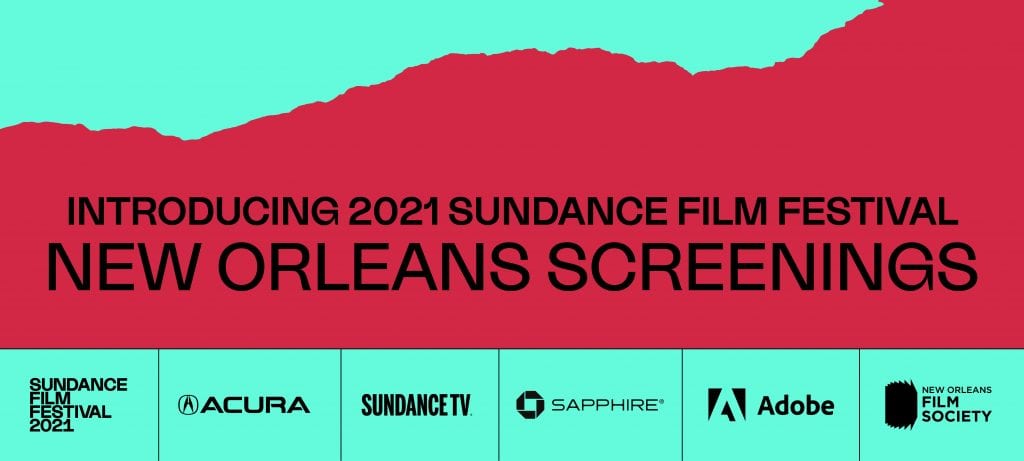 We are thrilled to be a collaborator of the Sundance Film Festival as a Satellite Screen. As part of this partnership, we are presenting customized local programming and 12 feature films from the 2021 Sundance Film Festival safely open-air at The Broadside in New Orleans between January 28 to February 3, fostering greater access to bold new voices in independent cinema.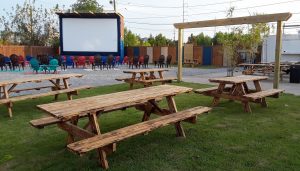 Tickets will be on pre-sale for our members on Monday, January 11 at 12pm. Ticket sales open to the general public on Friday, January 15 at 12pm.
The capacity is very limited, become a member here to guarantee your seat and get $3 off of each ticket!
You can also watch Sundance films virtually at sundance.org. New Orleans Film Society members also get $5 off on one virtual film ticket of their choosing. If you are a member, check your inbox to
see this discount code.
CHECK OUT OUR SPECIAL PROGRAMMING AT SUNDANCE FESTIVAL VILLAGE
We are delighted to present special conversations on our Sundance Festival Village page with New Orleans artists joining this year's festival with their films. Watch all for free here.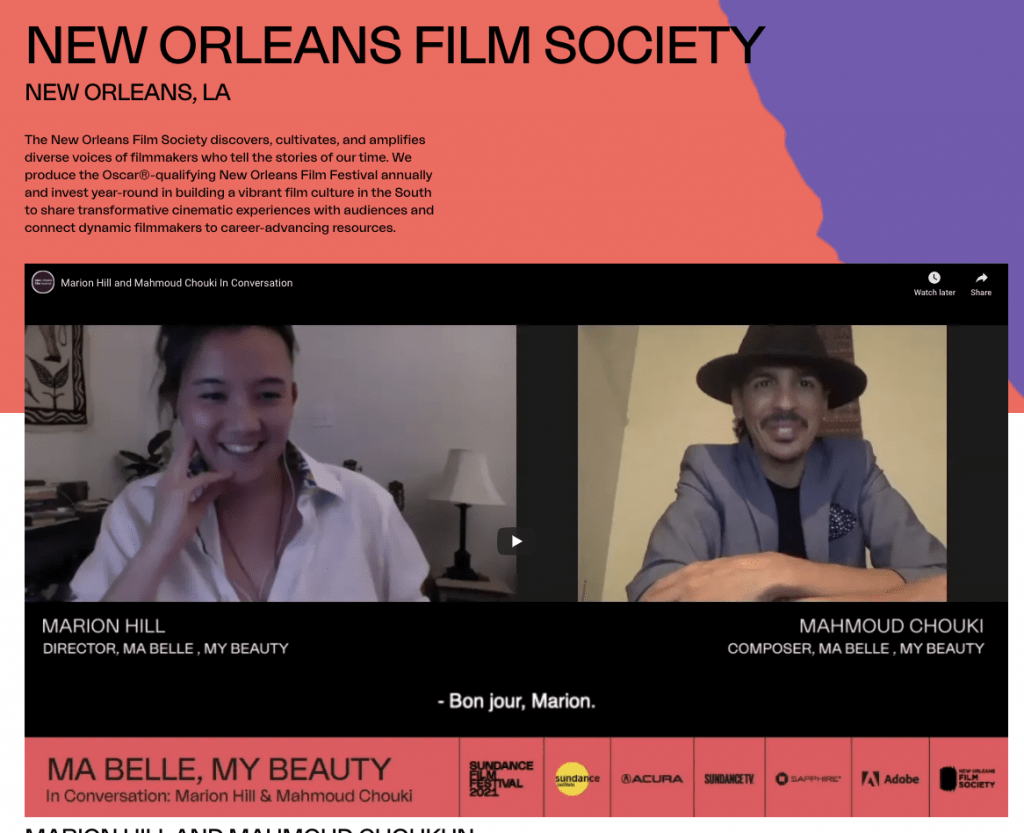 THANKS TO OUR SPONSORS

Since these screenings will be held safely outdoors at The Broadside with a very limited capacity, New Orleans Film Society members get dibs to book their tickets as a thank you for their continuous support for our non-profit organization.
TICKETS: Regular $15 | NOFS Members $12
Members also get $3 off of each ticket purchase!
Become a Member Now
TICKETS
Regular $15 | NOFS Members $12
CUSTOMER SERVICE 
We are available during regular business hours 10am-6pm CST Monday-Friday. You can contact us in different ways:
Chat with us by clicking the teal "Contact Us" envelope icon in the bottom right corner of our website,

Email us at info@neworleansfilmsociety.org, 

Call us at (504) 309-6633.
During the days of the Festival (Thursday, January 28th – Tuesday, February 2nd), we will be available every day from 10am – 7pm CST.   
BOX OFFICE:
The Festival Box Office at The Broadside will operate daily between 5pm-9pm. 
Advance reservations, and arriving in time to be in your seat 15 minutes prior to showtime, are the only way to guarantee seats. 
If you have already purchased your ticket, there is no need to visit the Box Office upon arrival. You may proceed to the entrance for your screening and your ticket will be scanned at the gate. There will be no physical tickets provided –– simply show the ticket on your mobile device (our preference), or bring your personally printed copy to be scanned at entry.
If you need to purchase a ticket and cannot do so in advance, or need on-site customer service, visit the Festival Box Office to book any remaining screening tickets and to assist with booking future screenings. 
For the safety of our staff and guests, cash and checks will not be accepted at the Box Office. Please be prepared to pay with a debit or credit card, or Apple/Google Pay via smartphone. Purchasing online in advance is always the safest way to purchase.  
ACCESSIBILITY:
The Broadside doesn't have closed captions or audio description capabilities.  
New Orleans Film Festival is happy to provide American Sign Language interpreters at no charge for anybody who requests in advance. Please contact NOFS at info@neworleansfilmsociety.org or call at (504) 309-6633. 
All films will have open captions. 
Films presented online directly from the Sundance Film Festival offer additional accessibility methods. Please find more information here. 
THE VENUE: 
25' wide outdoor screen 
Capacity: maximum is 150 ppl, but NOFS will monitor City guidelines and adjust accordingly.. 
Address: 600 N. Broad, New Orleans, LA 70119
Entrance and exit from N Broad st. 
Seating:
There will be adirondacks chairs on-site arranged to accommodate 1, 2 or 3+ sections and each of them will be designated with 6ft physical distancing in mind. Please follow the rules and adhere to all on-site staff requests. Please don't bring any seating of your own. 
Concessions:
There will be a cash bar and food truck on the site.  No outside food and drinks allowed. The venue will stay open after the film until 11pm.   
Restrooms: 
ADA 4 single portalets without running water (cleaning station outside)
ADA Access:
The venue is wheelchair accessible, however we want to note that the seating area is paved with small rocks, but there is also a section with flat concrete pavement.   
GETTING THERE:
Public Transportation: 
Bus 94/Broad – stop #4662 N. Broad St. at Lafitte St. (Broadmoor to New Orleans East line via Gentilly)  
Bus 84/Galvez – stop #2002 N. Galvez at Lafitte (CBD to Lower Ninth Ward line via Mid-City and St Claude)
Bus 32/Leonidas-Treme – stop #8501 Orleans at N. Dorgenois or stop #8490 Orleans at Broad (Uptown to Downtown line via Mid-City) 
Streetcar 47/48 Canal Street/Cemeteries – stop  Stop #898 Canal at Dorgenois or Canal at S. Broad 
Bikes:
Access via Lafitte Greenway bike trail  
Use the newly launched New Orleans Bikeway Blueprint digital map that will show you all bike lanes that will connect you with the Lafitte Greenway trail.  You can also use 2020 New Orleans Bicycle Map and Guide to Safe Cycling.pdf 
Bike racks will be available on site. 
Vehicles:
There is a free parking lot in front of the venue. You can also park for free by the Broad Theater. 
FAQ:
WHAT IF A SCREENING SELLS OUT? IS THERE A RUSH LINE? 
Physically distant Rush Lines will form at the Box Office half an hour before the scheduled screening. Any available seats will be released on a first-come, first-served basis to those in line. Please be prepared to pay with a debit or credit card, or Apple/Google Pay via smartphone only. 
WHAT IF I DECIDE NOT TO USE MY TICKET(S)? 
Consider:
transferring your ticket to another person ( you can do that easily through Eventive by providing their email address), 

exchanging a ticket for another film, or

treating it as a donation to the New Orleans Film Society; your support means the world to us. 
WHAT IF THE SCREENING IS CANCELLED DUE TO THE WEATHER?
NOFS will monitor daily weather conditions and will make decisions about the show cancellation no later than 1 h before the screening. All ticket holders will be notified via email, text, and call about the cancellation. You will be asked to contact us if you want to exchange your ticket for another film, turn it into a donation or receive a refund. If we don't hear from you within 48 hours, we will consider your ticket a donation to NOFS.   
WHAT ARE THE SEATING ARRANGEMENTS? 
There will be outdoor chair seating available for all. The seating pods will be arranged to accommodate 1, 2, or 3+ sections and each of them will be designated with 6ft physical distancing in mind. Please follow the rules and adhere to all on-site staff requests. 
WHAT ARE COVID-19 SAFETY MEASURES IN PLACE?  
Please do not attend any events and stay at home if you are experiencing symptoms of COVID-19. See the CDC guidelines for COVID-19 symptoms

here

.

Masks are required to enter the venue, per City guidelines. Physical distancing will be maintained for lines and seating.

NOFS reserves the right to decline a refund to anyone who refuses to follow the rules and guests who refuse will be asked to leave. 

No pre and post-viewing congregations are permitted in and around the venue.

All staff and volunteers will be masked.

Sanitizing stations will be available to service the areas adjacent to the box office, restrooms, concession stand, entrance/exit. 

At all times, all guests must maintain a 6ft social distance from other people, either inline or at your seat.

Extra masks and hand sanitizer will be available for your use should you need them. 

Patrons are required to wear masks when using public restrooms.  Guests must wash hands or use hand sanitizer frequently, including after using restrooms and touching other public spaces. 

The lines to the restrooms will be arranged with a 6ft distance between parties and they will be marked on the ground. 

Restrooms will be cleaned by Broadside staff at regular intervals during screenings

Seats will be sanitized, wiped, and sprayed with disinfectants between screenings. 

The City of New Orleans requires contact information for individuals attending large gatherings. No tickets can be purchased for any screening without providing your full name and contact details. Please show up early to allow additional time at the box office should you need to make an on-site purchase. 
DOES MY TICKET ALLOW TO WATCH ONLINE FILMS AT THE SUNDANCE FILM FESTIVAL WEBSITE?
Tickets sold by NOFS are only valid for in-person screenings at The Broadside in New Orleans. If you are interested in watching films online, please purchase tickets or passes directly from the Sundance Institute here. New Orleans Film Society members get $5 off on one virtual film ticket of their choosing. If you are a member, check your inbox to see this discount code. If you want to become a member, please sign up here. 
WILL THE VENUE PROVIDE HEATING?
There are several heaters in the back of the seating area, but they don't reach all seats. Please dress appropriately for the weather conditions that day as this is an outdoor venue. You are welcome to bring blankets and any other covers to stay warm.