Join us at the free screening of Joshua: Teenager vs. Superpower preceded with a reception and followed by a panel on Thursday, November 15th at the Broad Theater (636 N Broad St). This event is free thanks to the generous support of the Fertel Foundation.
6:30 PM – Reception with FREE beer/wine and popcorn
7:25 PM – Joshua: Teenager vs. Superpower Screening
8:45 PM – Panel with director Joe Piscatella, and New Orleans student activists Chasity Hunter and Louise Olivier and Olivia Keefe (organizers of the March for Our Lives rally), moderated by Martin Dimitrov, Associate Professor of Political Science, Tulane University.
Unstable times can create the unlikeliest of heroes. When the promise of Hong Kong's autonomy was at risk, 14 year old Joshua Wong decided to speak up. Amid the glistening cityscape, filmmaker Joe Piscatella introduces viewers to a teenaged activist who inspired tens of thousands to stand up for their beliefs.
Please feel free to forward this invitation to your community lists or invite them on Facebook through this event page: https://www.facebook.com/events/1385809684886882/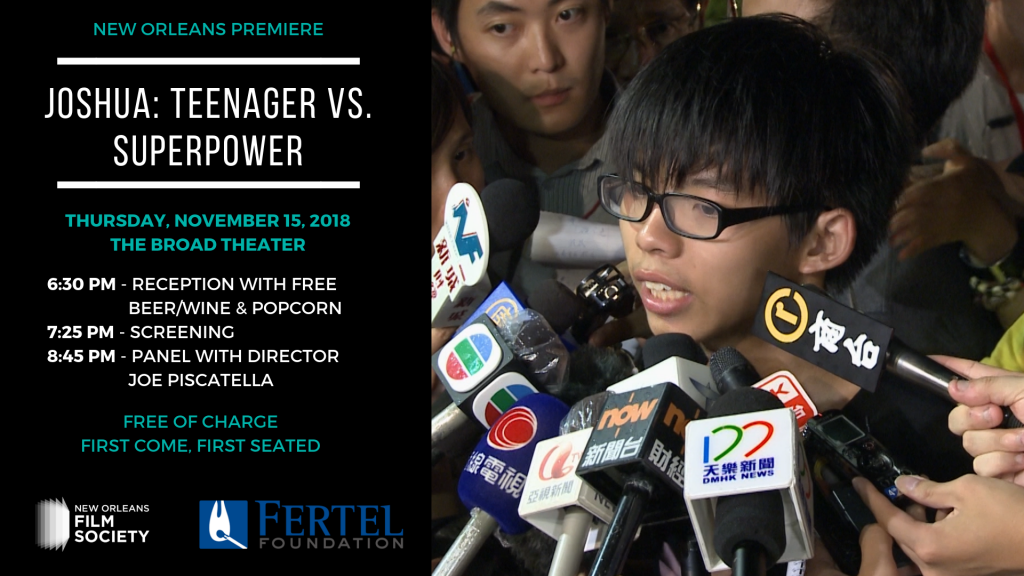 Watch the trailer of the documentary here: https://www.youtube.com/watch?v=7lN9_mQq2mQ