As the staff of the New Orleans Film Society, we each watch hundreds of films in the span of a year. Some turn into team favorites, some affect us individually, some we showcase and share with our members and community but all leave a trace in some way. As 2018 came to an end, it's time for our traditional staff picks of the year. You'll see a brief description of almost everyone's top 3 picks and then a list of more in no particular order. Share your top picks with us on Twitter, Facebook or Instagram.
Clint Bowie, Artistic Director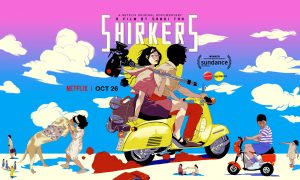 1. Shirkers, dir. Sandi Tan An absolutely fascinating story of what-ifs and intrigue (and it unspools in large part here in New Orleans!). There's a lot going on here, but more than anything, it's about the filmmaker's journey to reclaim what was taken from her years ago—and the result is a total delight. Available on Netflix.
2. The Favourite, dir. Yorgos Lanthimos I can't stop thinking about Olivia Colman's performance in this film—she deserves all the awards for her turn as the brash, vulnerable, stubborn, and, at her core, tragic figure of Queen Anne. So many scenes and images from this film will forever be lodging in my head: for starters, that incredible, avant-garde dance sequence with Rachel Weisz; and also those voluptuous tresses adorning all the men in court, and how could you ever forget the queen's cringe-inducing over-indulgence in cake (disgusting, yes, but such a perfect encapsulation of state of being!). Did I love the fish-eye? Not so much. And was the ending a little weird? Sure. But all in all, I can't wait to watch this again. In theaters now.
3. Roma, dir. Alfonso Cuarón The word masterpiece gets over-used but it feels so right when talking about this film. And while it also feels a little predictable to put this on a top-ten list, it's undeniably one of the greatest works of the year—or of the decade for that matter. It's timeless, it's profound, and it reminds me so much of all the reasons I love Fellini movies (who, incidentally, also made a film called Roma): this sense of looking back at the cinema of one's own life from a perspective that invites and cherishes all the conflicting emotions and feelings of the past. Available on Netflix.
The Rider, dir. Chloé Zhao.
Minding the Gap, dir. Bing Liu.
First Reformed, dir. Paul Schrader.
Hale County This Morning, This Evening, dir. RaMell Ross.
Eighth Grade, dir. Bo Burnham.
The Miseducation of Cameron Post, dir. Desiree Akhavan.
Black Panther, dir. Ryan Coogler.
Fallon Young, Executive Director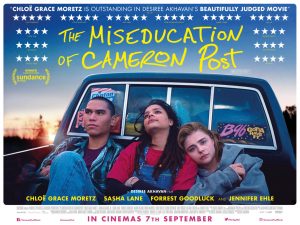 1. The Miseducation of Cameron Post, dir. Desiree Akhavan. The other big feature about gay conversion, Boy Erased is the 2018 gay conversion story that will get all of the attention, due to in part to the profile of its cast, but it fell emotionally flat for me by comparison to Cameron Post. This was easily the feature film that left the most indelible impression on me this year, and not least of all because it led me to subsequently (and gleefully) devour director Desiree Akhavan's hilarious and charming series The Bisexual (2018) and her debut feature Appropriate Behavior (2014). Cameron Post is the film I wish I'd seen when I was coming of age and coming out in the 90's, and although I am prone to warmth for any story hinged around solidarity among misfits, the nuanced way in which each character grapples with their situation and this period of self-exploration, the relatable bond between Cameron, Jane and Adam, and moments of natural levity made the film feel memorable and just downright earnest. Available on Amazon.
2. Sorry to Bother You, dir. Boots Riley. It was bold, brash, dystopian satire, and a timely, scathing read of white privilege and late stage capitalism. It was also the wildest and most fun film I saw in 2018, and perhaps the most surprising. I wish I'd seen the film being pitched! Available on Amazon and Hulu.
3. The Rider, dir. Chloé Zhao. Even if you didn't grow up on the rodeo circuit like I did, there's so much to move you, to unpack and gently hold in this drama. The cultural expectations for men and boys who participate in the rodeo (and on men in society at large) come face to face with the vulnerability of acquired disability, a topic rarely explored onscreen. We see thoughtful portrayals of three characters (two of which are actually persons with disabilities in real life) who are adapting, surviving and sometimes thriving despite their circumstances, and we see how important family and friendships are to move through life's greatest challenges.
Leave No Trace, dir Debra Granik.
America to Me, dir. Steve James, Bing Liu, Rebecca Parrish, Kevin Shaw.
If Beale Street Could Talk, dir. Barry Jenkins.
Roma, dir. Alfonso Cuarón.
Skate Kitchen, dir. Crystal Moselle.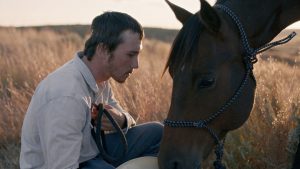 John Desplas, Artistic Director Emeritus
Of those I saw— not necessarily to be preserved in amber, and in no particular order:
1. Roma, dir. Alfonso Cuarón.
2. The Rider, dir. Chloé Zhao.
3. The Ballad of Buster Scruggs, dir. Ethan Coen, Joel Coen.
4. The Favourite, dir. Yorgos Lanthimos.
5. The Death of Stalin, dir. Armando Iannucci.
6. First Reformed, dir. Paul Schrader.
7. Blackkklansman, dir. Spike Lee.
8. Final Portrait, dir. Stanley Tucci.
9. Widows, dir. Steve McQueen.
10. A Quiet Place, dir. John Krasinski.
Jon Kieran, Programming Manager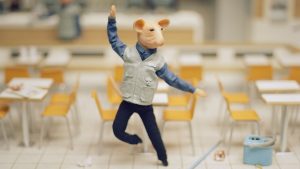 1. The Burden (Min Börda), dir. Niki Lindroth von Bahr If I could sum up my devotion to short films, I'd begin and end with surprise, because great shorts have this never-ending capacity to come out of nowhere and absolutely knock you down. For instance: I've been obsessively re-watching this Swedish stop-motion musical about the despair and heartache experienced by groups of animals working the night shift at a highway service plaza. See? Surprise! Available on Vimeo.
2. Personal Problems, dir. Bill Gunn Gunn's experimental TV piece, a "meta-soap opera" co-created with Ishmael Reed, has gone practically unscreened since its production nearly 40 years ago until restored and re-released this year. An incredible time capsule of 1980 Harlem, it mixes anguished naturalism with an almost experimentally free use of its video shooting stock, not to mention a flair for the absurd as it ranges through apartments, bars, parks, and hospital hallways. It's funny and sad and, after all this time, inescapably tinged with melancholy, all in all a worthy capstone to Gunn's too-brief filmography.
3. Happy as Lazzaro (Lazzaro Felice), dir. Alice Rohrwacher I almost don't want to say anything about Alice Rohrwacher's new film, which dropped unassumingly onto Netflix late last month after winning Best Screenplay at Cannes this summer. There are mysteries upon enigmas here, and they're worth preserving just so that the enlightened humor and formal skill with which they're tugged at, teased, and lastly unveiled can be fully savored. Recommended if you like Pasolini's Teorema, Huckleberry Finn, or laughing so as not to cry about the world's cruelty and indifference.
Minding the Gap, dir. Bing Liu.
Leave No Trace, dir. Debra Granik.
I Am Not a Witch, dir. Rungano Nyoni.
The Passage, dir. Phillip Burgers & Kitao Sakurai.
Joy in People, dir. Oscar Hudson.
Of Fathers and Sons, dir. Talal Derki Zama, Lucrecia Martel Annihilation, Alex Garland.
Kate Mason, Programming Manager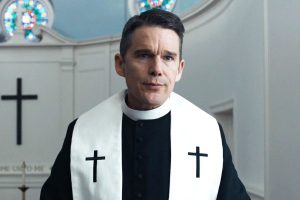 1. First Reformed, dir. Paul Schrader. I can't stop thinking about this movie. I adored the sparse visuals, the way the cold, New England town was framed, and the dispassionate but not disrespectful exploration of religion and spirituality. Most of all I loved watching Ethan Hawke unravel in a way that actually seemed reasonable. Fantastic writing, perfect pacing, and an emotional punch without all the usual tricks. A timely tale that isn't self-aggrandizing, but quietly manages to get under your skin until you feel sick. Available on Amazon.
2. Mandy, dir. Panos Cosmatos. Give me a movie with a cult leader who mistakes his captive for an idiot only for her to laugh in his face when he plays one of his own songs to impress her, and I will give you a fantastic recommendation. Available on Amazon.
3. Blowin' Up, dir. Stephanie Wang-Breal. Any person who sees this movie is lucky— lucky to spend time with these women and marvel at how they struggle to bring humanity to a system that doesn't welcome them. This documentary is a testament to the form in that it is technically very impressive and provides an incredible level of access, but doesn't distract you from the subjects, who command the film like movie stars.
Black Mother, dir. Khalik Allah.
Cam, dir. Daniel Goldhaber.
Sorry to Bother You, dir. Boots Riley.
Mary, Queen of Scots, dir. Josie Rourke.
The Favourite, dir. Yorgos Lanthimos.
Monika Leska, Operations Director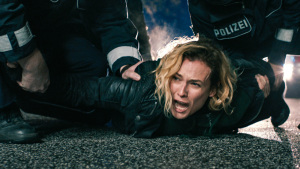 1. In the Fade, dir. Fatih Akin. The film was very personal and deeply emotional. I don't get affected by films easily and this was one of those where I felt very connected to the main character. Katja, played by Diane Kruger, has become my heroine. The film could have finished in many different ways, but the director offered the best ending I would have wished for as a mother. I have never lost a child, but I would exactly follow steps of Katja in my real life… Available on Amazon.
2. Roma, dir. Alfonso Cuaron. Stunning cinematography of everyday whereabouts of a family, where women play major roles. The men are always in the shade and not very virtuous. I have also felt very connected to the characters due to my personal life, so I guess those kind of films moved me the most in 2018.
3. The Prince and the Dybbuk, dir. Elwira Niewiera, Piotr Rosolowski. This documentary offers magical story of a director (in Poland known as Michal Waszynski) who had to change his identity every time he adopted into a new place in a turbulent Europe before and after WWII. The biopic intertwines scenes from his fantastical The Dybbuk (a film made in Yiddish in 1937 Poland) making the life of Waszynski as mystical as his films. I recommend watching The Dybbuk first and then following with this documentary.
The Ballad of Buster Scruggs, dir. Ethan Coen, Joel Coen.
First Reformed, dir. Paul Schrader.
Over the Limit, dir. Marta Prus.
Faces, Places, dir. Agnes Varda.
Music videos: Fortnite: "Gasoline", dir. Sven D., Philipp Primus ; Bashton: "Scandal" dir. Pablo Mengin ; Paula Cavalciuk: "Uterine Death and Life", dir. Daniel Bruson.
Zaf Yumru, Marketing and Communications Manager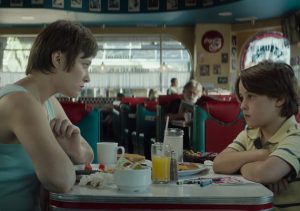 1. Lemonade, dir. Ioana Uricaru. This first feature by Romanian director Ioana Uricaru has been in my mind since I saw it at the Tribeca Film Festival last April. Mara moves to the U.S. with her 9-year-old son and marries a man she hardly knows. Apart from the quality of storytelling and cinematography (the film was produced by the Palme d'Or winner Christian Mungiu), it is also a very honest account of what people go through to legally immigrate to the U.S. It is a must-see for everyone in these times when anti-immigration talks are on the rise.
2. Queercore: How To Punk A Revolution, dir. Yony Leyser. I have been following Yony's work since his first documentary on the life of William S. Burroughs (Burroughs: A Man Within). He is a great at translating archival research into film on top of being an incredible interviewer. On Queercore, Yony takes us on a journey to the roots of the queer punk "movement" that was fabricated by Bruce La Bruce and G.B. Jones in the 80s, which then turned into a real movement of resistance to the assimilation of heteronormative standards into gay culture. Available on Amazon.
3. Distant Constellation, dir. Shevaun Mizrahi. This beautifully composed documentary takes us into a retirement home in Istanbul, Turkey. Getting to know some of the oldest residents in one of the oldest cities in the world through Mizrahi's lens feels magical in a soothing way. Their stories might be from a different time but surprisingly contemporary. From one of the last living survivors of the Armenian Genocide who insists on being called by her Turkish name, to a photographer recollecting memories, to an incorrigible Casanova who falls for the offscreen filmmaker, this constellation might be distant but it sure strikes very close to the heart.
Don't Worry, He Won't Get Far on Foot, dir. Gus Van Sant.
The Favorite, dir. Yorgos Lanthimos.
Sorry Angel, dir. Christophe Honoré.
Sorry to Bother You, dir. Boots Riley.
Jennifer Samani, Development Director