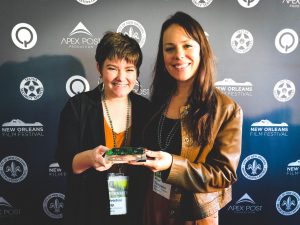 We continue catching up with NOFF alum filmmakers with Pilar Timpane and Christine Delp, the directors behind SANTUARIO, winners of the 2018 Documentary Special Jury Mention Award. Let's see Where Are They Now?
Christine Delp is a documentary filmmaker and sociologist based in Minneapolis, MN. Her directorial debut (with Pilar Timpane), SANTUARIO, won Tribeca Film Institute's IF/THEN pitch for the American South and recieved the Grand Jury Prize for Best Documentary Short at the New Orleans Film Festival. She is currently producing the documentary BURDEN OF PROOF, in co-production with HBO. Her work has been supported by Sundance Institute, IDFA Forum, Women in Film and others. Christine is a New Orleans Film Society Southern Producers Lab Fellow, an associate of UC Berkeley's Investigative Reporting Program, and a PhD student in sociology at the University of Minnesota, where she holds a National Science Foundation fellowship.
Pilar Timpane is a filmmaker and creative producer living in Durham, NC. She co-directed and produced SANTUARIO (2019, ReelSouth/AlJazeera Witness), a film that follows Juana Luz Tobar Ortega as she takes sanctuary in a North Carolina church. Her work has been supported by IF/Then Shorts, Working Films, Tribeca Film Institute, Women in Film Finishing Fund, and shown nationally at festivals including Full Frame Documentary Film Festival. She is a fellow of the New Orleans Film Society Southern Producers Lab.
Fill in the blanks: If my life was a film, it would be directed by _______, and I would be played by _______. 
Pilar: It would be directed by me? And I would be played by myself!
Christine: Greta Gerwig, Daisy Edgar-Jones.
When did you know you wanted to be a filmmaker? What/who inspired you to pursue your artistic ambitions?
Pilar: In my undergraduate program at Rutgers, I was studying Creative Writing. There happened to be a "documentary storytelling for writers" class and I was given the wonderful opportunity to create my first short – a documentary portrait about a man named Vicente who had recently immigrated from Mexico to New Jersey. He was able to join me in screenings of the film and discuss his powerful experience crossing the border. I was moved by the power of storytelling to invite people into translation — across walks of life, better understanding each other's languages, crossing paths through this visual medium.
Through community conversation and direct, personal engagement, I still hold the hope that film can be an agent of social change.
Christine: In my 10th grade English class we were given a homework assignment to make a five minute film of a scene from Oedipus Rex. I directed a 25 film of the entire play, enlisting all of my friends as actors and filming across our small NC town. It was absolutely terrible and I hope the evidence is destroyed somewhere.
In college, I took a documentary class because, at the time, I thought I wanted to work in policy and thought having film experience might be a good skill. Instead, I dropped my public policy major and took every documentary class my university offered, designing my own major in documentary and ethics. But it has still taking me a while to consider myself a filmmaker, instead often taking on more supportive roles. I think it is still hard for me in some ways to say I am a filmmaker because I have only directed one short film. In general, I think in general it is hard for me as a young woman to own my own vision without apologizing for it. It's something I have to continually work on. I'm always fighting against the fear of not having an interesting enough point of view.
My favorite spot in New Orleans is _______, and one thing I have to eat while there is _______. 
Pilar: So many wonderful places, but I loved the gorgeous outdoor ambiance of N7 in the Bywater. Everything I ate there was *kisses fingers*!
Christine: Cochon, the macaroni and cheese. I've never tasted better.
How has your life changed since winning a NOFF award in 2018 with Santuario? How has winning changed you or your creative process? How has it affected the film?
Pilar: It was such an exciting moment (and surprise!) to be awarded the Best Doc Short award at NOFF – we were stunned and truly humbled. It was a gift to be able to share that festival and award with one of our characters, Juana's daughter Lesvi. We enjoyed a full year of festival circuit screenings, and went on to broadcast with ReelSouth and to show the film all over the country in an outreach campaign with Working Films called Stories Beyond Borders. By engaging directly with local activists in cities throughout the South and elsewhere, we've been able to invite audiences to get involved and impact their communities. (Link: https://www.workingfilms.org/stories-beyond-borders/)
Since the quarantine, it's been a difficult time for my work as an indie producer who is also a working parent, but I was lucky enough to be in this year's completely virtual cohort of the Southern Producers Lab representing a documentary called the Last Partera – a beautiful film about a 95-year-old Costa Rican midwife by directors Victoria Bouloubasis and Ned Phillips. I loved and depended on our sessions and feel like I really got to see people grow with their projects and pitches.
Christine: My life has changed a great deal; I've moved from Durham, NC to Minneapolis, MN to pursue a PhD in sociology at the University of Minnesota. I still continue to work on creative projects that I started before the PhD, and once those finish, I hope to direct a film in tandem with my sociology dissertation.
If you had to describe your experience at the New Orleans Film Festival in one word what would it be and why?
Pilar: FUN. Because I enjoy the beautiful people, energy, and of course incredible selection of films at NOFF. I have experienced so much joy and connection at NOFF, and it's brought me deepened relationships as well as amazing support for my work. I hope I get to go back again and again for years to come.
Christine: Nourishing; some of my dearest friends and happiest memories have been born out of this festival and other programming like the Southern Producer's Lab. NOFF and NOFS will always hold a very dear place in my heart.
In times like these, where do you draw your inspiration for new work? Are you working on any projects now?
Pilar: Lately I have enjoyed the beautiful and heartbreaking writing of Ocean Vuong, as well as the expansive and introspective films of Agnès Varda. I am currently working on a couple shorts, including my first personal project, and continue to produce for other filmmakers as well.
Christine: I've been producing a family drama series for the last five years, so that has taken much of my creative energy. We are in the final edits now and I cannot wait to release it into this world. I am also working on a new podcast called Sociable which considers the social forces which shape our choices and how much agency we really have over our lives. It's my first attempt at bridging my sociologist self with my creative self, and I'm really excited about the possibility of bridging my two worlds. There are a lot of important stories to be told in these strange and uncertain times, and I hope to capture a few with the podcast. Stay tuned!
We would like to thank Pilar and Christine for taking the time to answer our questions. Hope you are enjoying these interviews, next in line at "Where Are They Now?" is NOFF award-winning cinematographer, Zac Manuel.