We are excited to announce selected participants of Southern Producers Lab 2022. Ten emerging, diverse producers from nine Southern states will join an intensive series of workshops, panels, one-on-one mentoring sessions, and networking opportunities with industry experts at the fourth annual Southern Producers Lab, May 17-20, 2022.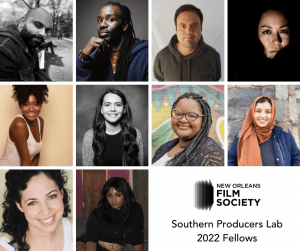 This program is designed to explore the unique challenges of living and working in the US South as a producer. Producers will explore a range of topics such as the director, producer relationship, addressing career sustainability and burnout and articulating one's own unique skill set as a producer. Participants will also hone their skills in budgeting, funding, festival strategy, and distribution and receive a $2,000 grant to support their project. 
The 2022 Lab will engage the expertise of industry leaders and successful producers to address the following aspects of producing: funding and financing, sales and distribution, treatment writing, story development, pitching, budgets, and festival strategy. Industry advisors will lead workshops and small-group sessions and offer one-on-one mentoring to participants. 
Southern Producers Lab is made possible with support from WarnerMedia150, the National Endowment for the Arts, Ford Foundation, Perspective Fund, and Oolite Arts.
SOUTHERN PRODUCERS LAB 2022 FELLOWS

Ronald Baez with Liberty City VR (VR Project)
Miami, Florida
Ronald Baez is an award-winning Afro-Latinx filmmaker and immersive media artist from Miami, FL. In addition to screening at film festivals worldwide, Baez has exhibited work at the Norton Art Museum, MIT (Massachusetts Institute of Technology), NAB Show (Las Vegas), and in collaboration with the Slamdance Film Festival, National Geographic, the New World Symphony and the Adrienne Arscht Center. 
Project Logline: An immersive media experience that brings the history of Miami's legendary Black neighborhood to life.
Curtis Caesar John with Stonebreakers (Documentary Feature)
Columbia, South Carolina
Curtis Caesar John sees cinema as the nexus for furthering our understanding of one another, even within our own cultures, and thus works tirelessly as a filmmaker, arts manager, and advocate.  Curtis is currently a producer on "Stonebreakers," a new documentary about the fight over monuments in the United States and previously produced "BlaxploItalian: 100 Years of Blackness in Italian Cinema," and is in pre-production of a short film about Dorothy Dandridge. He is also the founder and Executive Director of The Luminal Theater, a nomadic microcinema founded in 2015 that brings Black independent films directly to Black communities.
Project Logline: Exploring the fights over monuments in the USA, the meaning of memorialization, and how history can inflame present-day political action.
Jorge Carreon with Todo está bien papá (Everything will be alright) (Narrative Feature) 
El Paso, Texas
Jorge Carreon. Writer and producer. Born in El Paso Texas, raised in Ciudad Juarez, México. AFI Producing Alumnus. His documentary Condemning Acquittal was produced by Nomo in collaboration with Ambulante becoming very successful in academic circles. Producer and writer of Azul Claro winner of IMCINE short film grant, official selection of Mexico's top film festivals. La Coquin et The Anominous, his directorial debut, is currently in pre-production. He supports border filmmakers by working together in finding their voice and producing their stories.
Project Logline: A broken father grieves his son's corpse, until he's forced to bury his recently murdered brother-in-law to heal.
Michelle Svenson with Drowned Land (Documentary Feature)
Tulsa, Oklahoma 
Michelle Lee Svenson is a freelance film producer whose work focuses on elevating minority filmmakers' voices. She was the Smithsonian's National Museum of the American Indian's Film + Video Center producer and programmer for ten years and served on granting initiatives such as the Tribeca Film Institute's All Access and the International Sámi Film Institute's Indigenous Film Circle. Independently, she has been producing and marketing films with premieres at Sundance, Tribeca, SXSW and MoMA. Current projects include Colleen Thurston's DROWNED LAND and Britni Harris' GOFF. Michelle programs for DocLands and is the Artistic Program Producer at the Tulsa Artist Fellowship.
Project Logline: Deep in the Choctaw Nation of rural Oklahoma rages a fight to preserve the Kiamichi River, reckoning with a cycle of land loss for the Indigenous diaspora and the community at large.
Janae Thompson with LOVE WEST (Documentary Feature) 
Hampton Roads, Virginia
Janae is a theatrical performer and filmmaker from Hampton Roads, Virginia. She studied Musical Theatre at the American Musical and Dramatic Academy and is currently studying Digital Cinematography at Full Sail University. She began engaging in film production in 2019, after observing the necessity of people of color in theatrical and film spaces. She serves as a Repertory Company Member for the Canady Foundation for the Arts and Board Member of the Little Theatre of Norfolk. Janae hopes to bring awareness to social issues, women, and people of color. She believes in the power of sharing stories that involve creativity, education, community, and our ancestral legacy of storytelling at the center.
Project Logline: A West Philadelphia girls basketball team fights for a state title while contending with a dual pandemic; they look to love for survival.
Amalia Eddings with I Do This For A Living (Narrative Feature) 
Little Rock, Arkansas
Amalia Eddings is an Colombian-American Filmmaker born and raised in Arkansas with a BA in Filmmaking from the University of Central Arkansas. Amalia has been an Associate Producer/Editor for almost 2 years for production companies Content Titan and Mudroom Films. Primarily working on the feature documentary, "The  'Vous", about the internationally famous BBQ restaurant, The Rendezvous. In 2019, she interned at Vanishing Angle, a Los Angeles based production company known for Sundance and SXSW winning film "Thunder Road ". In 2020/2021, she produced an Arkansas-made independent spanish language feature "Llego Hoy" and female focused short film "Moth".
Project Logline: Jeff, mechanic and southern family man, navigates life with his recovering addict son who starts dating a trans girl.

Natalia Holley with Pure (Narrative Short) 
Silver Spring, Maryland
Natalie Holley is a graduate of New York University's Tisch School of the Arts, where she completed the Film/Television program in 2019. During her time at NYU, Natalie produced numerous student films and participated in internships at Random Acts of Flyness (HBO) and First Wives Club (BET+). Since Summer 2020, Natalie has taken on the role of creative producer for Pure, an upcoming feature film written and directed by fellow NYU alum Natalie Jasmine Harris. She hopes to become an independent producer for film, television, and beyond. Born and raised in Chicago, Natalie currently resides in Silver Spring, Maryland.
Project Logline: On the eve of her cotillion ball, a young Black girl grapples with her queer identity and questions her purity.
Annam Rizwan with The Immigration Game (Narrative Feature) 
Marietta, Georgia
Annam Rizwan is an independent producer dedicated to telling stories about Muslims and Pakistanis living in the American South. A graduate of the University of Georgia, Annam found her passion for production and leadership while serving as a student leader and president for the Pakistani Students Association and Muslim Students Association. Her most recent film, Congratulations, is a Clermont Ferrand Market Pick and an official selection to Palm Springs ShortFest, Atlanta Film Festival, New Orleans Film Festival. She is currently producing a web series, A Version, about a newly married Muslim couple visiting the therapist to save their marriage, as well as her first feature film, The Immigration Game. 
Project Logline: After his US visa expires and he decides to overstay, Majeed finds an illegal way to become legal again.
Sommer Garcia Saqr with In Tow (Narrative Short) 
Houston, Texas
Sommer Garcia Saqr is a Mexican-American and first generation Palestinian-American filmmaker and producer based in Houston, Texas. She produced the award-winning short film, Sepia which premiered at the 2018 El Paso Film Festival and helped produce the indie feature, Carnage Radio which is now in post-production. Her work focuses on the struggle to find community and belonging, greatly informed by her multicultural upbringing. As an actress, she has worked with Ron Howard in Ed-TV and Gregory Nava in the PBS series, American Family. She is currently producing the short film, In Tow with Sharon Arteaga and Chelsea Hernandez.
Project Logline: A mother and daughter confront their differences while their mobile home is being repossessed … with them inside of it!
Maha Chielo with Blacklight (Narrative Series) 
New Orleans, Louisiana
Maha Chielo is a sex worker, filmmaker, and community organizer from New Orleans. She is a founding member of B.A.R.E. (Bourbon Alliance of Responsible Entertainers) which fights against discriminatory labor laws affecting sex workers. She has also been a member of Socialist Alternative, Cop Watch, and the 15 Now Minimum Wage Campaign. Prior to that, she was a Blavity writing fellow. In 2017, she was the recipient of the New Orleans Jazz & Heritage Foundation Community Partnership Grant for writing. She's an avid fanfiction reader, cosplayer, Eazy-E enthusiast, and lover of all things dark and gloomy.
Project Logline: Introverted Black goth and socialist organizer Brianna enters the absurd world of sex work in post-Katrina New Orleans.