We are proud to announce that the New Orleans Film Festival is once again named on the list of the "25 Coolest Film Festivals in the World" by MovieMaker Magazine! 
MovieMaker wrote—"Jim Cummings [panelist and a Sundance and SXSW-winning filmmaker] notes that artistic director Clint Bowie and his team "run an amazing show…You feel special at the New Orleans Film Festival." Cummings notes that he's from New Orleans, "so I might be biased," but we don't think so: The festival has appeared repeatedly on this list, and is also a regular on our list of 50 Film Festivals Worth the Entry Fee. With its breathtaking blend of cultures, music, architecture and food, New Orleans is one of the coolest places on earth, even on a slow night. But add an ambitiously curated film festival and surprises galore (one year included a DJ set by Arcade Fire's Win Butler) and you have an experience hard to rival. Since NOFF started asking filmmakers who submit through FilmFreeway about the inclusivity of their teams and their personal connections to the stories they tell, submission numbers have gone down a bit. And the festival is totally cool with that."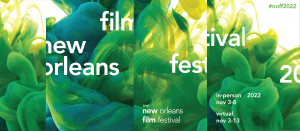 As a friend of this cool fest, now's the best time to purchase your All Access passes to the 33rd New Orleans Film Festival, taking place November 3-8 (November 3-13 virtually) in venues across the city with in-person events, parties, panels, filmmaker pitches, and much more!  Purchase your All Access pass at our Early Bird discounted price now through August 31 and save $50. Plus, NOFS members save an additional $50!  Click here to buy your passes.