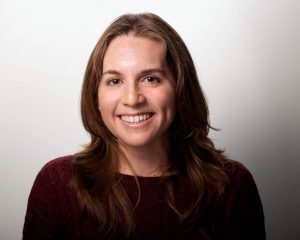 We are excited to announce the selection of Sarah Escalante as the organization's new Executive Director, effective July 5, 2022. Sarah is relocating from the Michigan Theater Foundation (MTF) in Ann Arbor, where she served as the Director of Programming and Communications and Festival Director for the MTF's Cinetopia Film Festival. Under her leadership, Cinetopia expanded staffing and programming and increased ticket revenue and attendance; and as a member of the MTF's Executive Team, she helped lead the MTF and its two historic theaters through COVID-19 closure (transitioning to virtual programming) and reopening.
"We feel confident that Sarah embraces the mission and values of NOFS and will guide the work of the organization to strengthen and expand upon the commitment NOFS has made to the community, filmmakers, audience, supporters and funders." –  Donna Santiago, Board President and Chair of the Search Committee.
Sarah Escalante said "I am honored to have this opportunity to join the New Orleans Film Society and its incredibly talented team and to meet and work with our extended network and partners. NOFS has a strong reputation and mission to provide space for diverse and local voices and perspectives and to start and expand conversations around the world.  I believe that film and film festivals are transformative, and these conversation spaces are what empower audiences and filmmakers to become engaged, compassionate, and questioning advocates. 
I look forward to working with NOFS and furthering these efforts to build on the legacy of discovering, cultivating, and amplifying homegrown storytelling in the South."
As the first order of business, Sarah Escalante will lead the NOFS team to fundraise and produce the 33rd annual New Orleans Film Festival which will be held November 3-18. 
ABOUT SARAH ESCALANTE
Sarah knew film was for her after volunteering and then working as seasonal film festival staff in California and Michigan and feeling the powerful impact of film in creating community advocacy. This led her to pivot early in her career from a legal academic into the world of nonprofit film exhibition.
Before this, Sarah was pursuing a Ph.D. in Political Science from Michigan State University, studying legal behavior patterns with the aim of confronting, and improving biases in judicial judgments. She developed this focus while completing her JD from Temple University Beasley School of Law in Philadelphia, PA, and before this earned a BA in Political Philosophy from The University of Chicago. 
Born in Los Angeles and raised in the San Francisco Bay Area, Sarah is also a volunteer screener for various U.S. film festivals, an ambassador for cookbook publishers Clarkson Potter and Ten-Speed Press, and always on the hunt for the best next meal. She shares these passions with her husband, Jared, a musician, digital artist, projectionist, and IATSE Stagehand.