There is a week left to apply to the New Orleans Film Festival's Emerging Voices mentorship program (until August 17th)! The program is designed for giving filmmakers of color in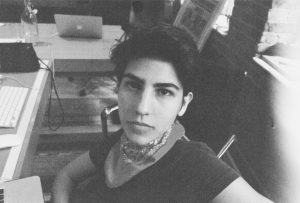 Louisiana greater access to industry gatekeepers and create a more diverse storytelling landscape. We are catching up with some of the previous mentees to see what they are doing nowadays. We interviewed Zandashé Brown last week and now let's see what Asli Ozyenginer is up to…
How did you decide to apply to the Emerging Voices program?
I jumped straight into a documentary project about a month after I moved to New Orleans. I had a great subject at hand but I didn't know anybody besides my creative partner Zaf Yumru so I thought Emerging Voices would be a great opportunity to connect with other creative folks and people from the industry. And it was all this and many more.
Are you still in touch with your EV cohort? How do you collaborate?
Yes, very much so! One thing that's great about #EmergingVoices is that it makes you a part of a big family that supports you till the end. What are you doing other than your own project? Could you tell a little bit about your career currently? Although I primarily focus on directing my own films and writing, I also produce photography, video-art, and installation projects. I was recently a part of an annual group exhibition in Istanbul (MAMUT Art Project) and had worked as a Digital Arts Instructor at Contemporary Arts Center, New Orleans. I am now working as Malik Vitthal's assistant for his new film Body Cam.
What are some current productions that you see and think "I would've loved to do that" or "I would have loved to be on that team of filmmakers."?
I, unfortunately, have never worked with women filmmakers. I would die to work with Greta Gerwig's crew on Lady Bird.
What do you like about producing in New Orleans?
The local film community is small yet very supportive in every sense. The city is filled with stories and cinematic spaces. You don't have to work in four different jobs to stay alive like you would in New York or LA. The city gives you time to actually work on your own stuff, which is perhaps the most important thing for a young artist.
---
It is great to see how past #EmergingVoices participants are doing! We are proudly following the careers of all of the 25 participants and could not be more proud of them! YOU can be next! Apply to join the next Emerging Voices cohort here, or share it with a friend you think might be interested in applying. See you at the 29th New Orleans Film Festival between October 17 – 25. #NOFF2018