Here at the New Orleans Film Society, we work year-round to support New Orleans' filmmakers and amplify our stories.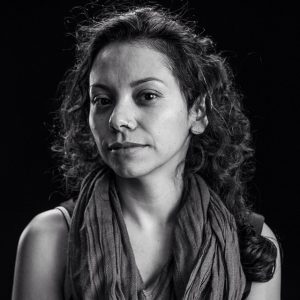 Meet Jasmin Mara López, a Mexican-American filmmaker based in New Orleans. Jasmin participated in our Emerging Voices Mentorship Program in 2017, which is designed to introduce filmmakers of color in Louisiana to industry gatekeepers to help create a more diverse storytelling landscape. New Orleans Film Society has supported 31 Louisiana filmmakers through the Emerging Voices program since 2014.
When Jasmin attended the Emerging Voices program, she was in the early stages of developing her documentary, Silent Beauty, an autobiographical exploration of one woman's family history with child sexual abuse and a culture of silence.
Less than two years have passed, and Jasmin is now about to complete production thanks to the funds she received from our institutional allies: the Southern Documentary Fund, Chicken & Egg, and the Black Public Media. Silent Beauty was also a part of the Tribeca Film Institute's TFI Network last week, which Jasmin got an invitation to attend during a meeting facilitated by NOFS at the New Orleans Film Festival 2018.
"AS A FIRST- TIME FILMMAKER, NOFS' EMERGING VOICES PROGRAM NOT ONLY OFFERED ME AN INTRODUCTION TO THE FILM INDUSTRY, IT ALSO ASSISTED ME IN CULTIVATING IMPORTANT RELATIONSHIPS, LIKE WITH THE TRIBECA FILM INSTITUTE. AS AN ARTIST IN AN OFTEN LONELY FIELD, THIS PROGRAM INTRODUCED ME TO MY COLLABORATORS AND FILM FAMILY. FOR THIS REASON, I AM FOREVER GRATEFUL."

– Jasmin Mara López, Filmmaker, 2017 Emerging Voices Mentee
As a non-profit organization, we rely on your support to keep supporting future Emerging Voices of New Orleans! Give NOLA Day is coming up, and our goal is to raise $6000. Can we count on you to make a small $30 donation on Give NOLA Day,Tuesday, May 7th, in honor of the New Orleans Film Society's 30th anniversary this year?
Your tax-deductible donation can help a NOLA filmmaker get one step closer to an #Oscar. Schedule your donation below!

Thank you for supporting New Orleans' independent filmmakers and their stories.
Watch the work sample for Silent Beauty below: