There are movies that we watch on a loop because we find them funny or meaningful or the perfect background noise while we clean the house. There are movies we see once and never think about again— if someone asks, the plot is only a vague memory. Of course, there are also movies that we despise, because they infuriated us or they bored us or they just "didn't do the trick." And then there are movies that change us, change the way we see the world or change the way we see film. It is these movies that I am spotlighting today— five movies that changed the way I think about film.
"I" as in me! Hi, I'm Allison, a Louisiana-native and recent Tulane graduate with a passion for all things film. I began interning at the New Orleans Film Society this January and starting now, I'll be taking over the NOFS blog for some time. So, without further ado, here are just five movies that have completely altered my perception of film.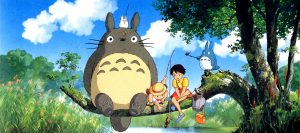 My Neighbor Totoro (dir. Miyazaki, 1988)
Growing up, animation for me consisted of slightly repulsive Cartoon Network shows and campy Disney Channel content. Definitely entertaining, definitely not what I'd necessarily consider art. It wasn't until I watched My Neighbor Totoro in college that I realized how much artistic potential lies in animation. Created by the celebrated director Hayao Miyazaki, My Neighbor Totoro follows two sisters, Satsuke and Mei, who meet and befriend a woodland spirit named Totoro whilst coping with their mother's unspecified illness in post-war Japan. It wasn't the story itself that really changed the way I see film— although the story is very touching (I cried!)— but the style of animation. Miyazaki is praised for his unique style and special attention to detail, from illustrating simple movements in nature to depicting raw human emotion, and his backgrounds are not to be overlooked. Each backdrop appears like a watercolor painting— so pristine that I questioned whether Miyazaki incorporated real photographs into his animation. I was taken aback by the beauty in this animated film, so perfect and yet still so imagined. Watching this film has given me a reason to rewatch other animated films and I find myself noticing the simplistic beauty in these films because of My Neighbor Totoro. Miyazaki once said, "I would like to make a film to tell children 'it's good to be alive'" and this is certainly revealed in his work. Miyazaki uses animation to exemplify what is so often overlooked in reality. I've come to realize that animation doesn't have to be kitschy stories about talking furniture or magical ogres— it can also be an artistic medium, one which showcases the beauty in life and the beauty of film, whether through a child's eyes or a magical spirit named Totoro. This one will be tricky to find considering it's distributed by Disney, but you can buy the DVD on Amazon.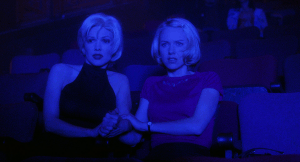 Mulholland Dr. (dir. Lynch, 2001)
I've always been a huge horror movie buff. For my 14th birthday I received the Nightmare on Elm Street box set— over 15 hours of Freddy Krueger stalking his victims in their dreams. Horror films didn't necessarily elicit fear in me but I loved them nonetheless, from the absurd plots and over-the-top screams to the classic corn syrup bloodbaths. It wasn't until I watched Mulholland Dr. at a popup theatre in Berlin my junior year abroad that I felt genuine fear whilst watching a film. Needless to say, after seeing this movie my respect for the horror genre has increased twofold. I literally slept with the lights on for two nights after watching David Lynch's work. Despite the plot being so far removed from my own life, the psychologically scarring sequences would not leave my subconscious alone. Lynch is famous for his uncanny horror but Mulholland Dr. revealed something about the director that I could never quite grasp watching his 90s cult classic Twin Peaks: the terror in the everyday and the unfathomable horror of the human psyche. You can rent Mulholland Drive on iTunes or buy it from Amazon.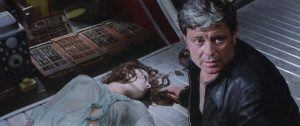 Solaris (dir. Tarkovsky, 1972)
Solaris is what a lot of people would coin "slow." I totally understand that since, after all, it's almost three hours long, it's in Russian, and many shots lack dialogue and human presence. These shots are what my professor called "Cosmomorphism" and before we began the film, she urged our class to think about how these shots made us feel instead of pondering how long we'd been sitting on a single scene. Defined and discussed by revolutionary filmmakers and theorists, the term defines a spectator's relationship to a long shot that has little to no human presence or aspects, a shot captured beyond the limits of the human eye. For example, an extreme long shot of the fictional planet Solaris orbiting in space for 40+ seconds. Instead of relating to the characters in the film, the spectator is forced to look inward during these shots. Solaris isn't Tarkovsky's most critically acclaimed film but it's the film that taught me how wide-ranging filming techniques can be and how film can affect the psyche of the spectator sans a relatable dialogue. A minute long shot of a field of daisies became a moment to philosophize, a moment to consider the broad spectrum of human emotion when no human was present. Solaris is much more than these cosmomorphic effects but it's the "Cosmomorphism" that allows the film to really explore themes of reality, fantasy, love, and loss. You can rent Solaris on Youtube, Amazon Prime, or iTunes.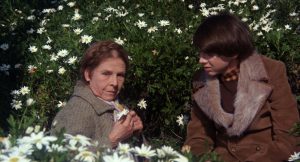 Harold and Maude (dir. Hal Ashby, 1971)
Harold and Maude is one of those movies that you have to put your blinders on to truly enjoy. The age difference between the two main characters, eventual lovers, is enough to turn any viewer off, but if you're able to look past the May-December romance, the film reveals itself to really be about the timelessness of love and death. Harold, a young man obsessed with death, meets Maude, an aging woman with a vivacity for life, at a funeral (which they both enjoy attending in their free time). The two form an unlikely friendship and teach each other about fear, love, and what it really means to be alive. The first time I watched this movie I sobbed. The second time, I sobbed. The third time… I sobbed. There's something so pure about this cult classic, from the melodic soundtrack by Cat Stevens to the hilarious caricature of Harold's elitist mother. I can understand why so many people may immediately turn their heads to the pure albeit strange love affair but really, Harold and Maude is about the irrelevance of such matters. This movie taught me that life's lessons can appear in the strangest of places, among the strangest of people. You can rent this film on Amazon Prime.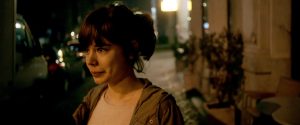 Victoria (dir. Sebastian Schipper, 2015)
This action packed thriller guarantees your eyes will be glued to the screen the entire time… probably because, maxing out at 2 hr 18 min, the entire film is shot in one take. When I first began this film, I didn't realize that its primary claim to fame was the no cuts feat because regardless, I was hooked by the storyline. In Victoria, a Spanish woman newly living in Berlin finds herself an accomplice in a bank heist after meeting a group of Berliners at a club. Because there are literally no cuts, the spectator is with Victoria for every second of her dangerous and unforeseen journey. Victoria truly changed the way I think about film because it opened up a completely different type of filmmaking. Instead of the meticulous editing that goes into most films, Victoria proves that film can still be influential in its simplicity. If you haven't seen it, it's the first film I recommend to others and I'm doing the same to you! Rent it here on Amazon Prime. 
_____
Film means something different to everyone. A film that's changed my life is "just another movie" to someone else and vice versa. I'm interested in hearing about movie(s) that have changed the way you think about film and why, so tweet us @NOFS or me @Failallison (or both!) with a film that has inspired you, influenced you, or just won't leave your subconscious alone.