When I think about New Orleans, a melody runs through my head. Sometimes it's accompanied by Billie Holiday's crooning, other times it's a trumpet solo, but there's always music. There's always a tune. While doing research for this post, I realized what sheer optimism comes from the sounds of New Orleans. Sometimes it's the soundtrack that really makes the film, and these films are that much more wonderful with these songs, straight out of the Crescent City, accompanying whatever may be on screen. Am I the only one who holds a film a little dearer when I recognize a New Orlean's based song in its soundtrack? All songs on this post are in this Spotify list for you to enjoy while reading!
"A Kiss to Build a Dream On" by Louis Armstrong in
Sleepless in Seattle
(dir. Ephron, 1993)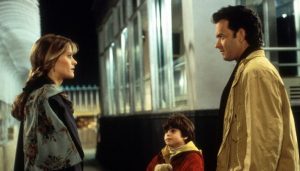 We all know the story… It's one of the most iconic Romantic Comedies in history. And so naturally it deserves a soundtrack to match, and who better to accompany Sam and Annie's complicated love story than the king of romance himself, Louis Armstrong? "A Kiss to Build a Dream On" comes at the perfect time in the film and will have you calling into your local radio station, searching for your Sam or Annie. The song isn't Louis' most famous, but his endearing optimism and magical tone will make you believe in the kind of love expressed in Sleepless in Seattle.
"Ain't That a Shame" by Fats Domino in
October Sky
(dir. Johnston, 1999)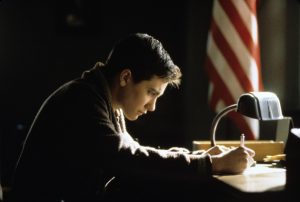 October Sky follows Homer, a coal-miner's son who becomes fascinated with rocket science after watching the launch of Sputnik 1 in 1957. With the help of his three friends, Homer breaks from the expectations of his father and attempts to build a prize-winning model rocket. Fats Domino's "Ain't That a Shame" accompanies a montage of the four teenagers as they test out various rockets. The song plays as rocket after rocket blows up after liftoff and the irony isn't lost on the viewer. Despite the lyrics, the melody is still upbeat and emits a sense of hope for the young Jake Gyllenhal and his pals to eventually succeed. Spoiler Alert: They do.  
"Let's Make a Better World" by Dr. John in
Holes
(dir. Davis, 2003)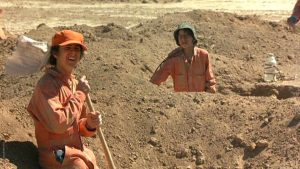 Dr. John has the perfect sound to accompany this drama about a rehabilitation camp for troubled youths. With his gritty voice accompanied by upbeat instrumentals and lyrics like, "Without the sweat and toil of mine; it wouldn't be worth a dime," the song feels like it was written for the movie. Naturally it was recorded about thirty years earlier, but that just goes to show how timeless a good song really is.
"Don't Get Around Much Anymore" by Harry Connick Jr. in
When Harry Met Sally
(dir. Reiner, 1989)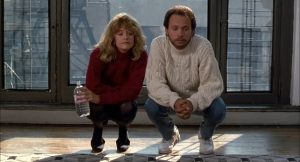 Harry Connick Jr. provided the entire soundtrack to this movie and honestly, who better to? This is the quintessential best-friends-to-lovers movie, that one we all watch after a breakup (or a platonic dinner with your sharp-tongued best friend). Although Duke Ellington originally recorded the breakup song, Harry Conick Jr.'s slower rendition, accompanied by a piano, is the perfect background to Harry and Sally's tumultuous second half: slow and somber but with an almost comic undertone. 
"When They Fight They Fight" by the Generationals in
The Edge of Seventeen
(dir. Craig, 2016)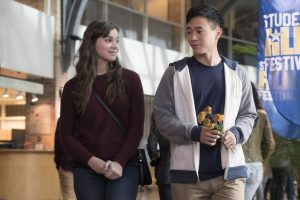 The Generationals' synth pop tune works perfectly in this coming-of-age film about a teenage girl going through an emotional crisis: losing her best friend to her older brother. The song plays while Nadine admires her new friend Erwin's artwork. Although it only plays quietly in the background, when I first saw the film I couldn't help but sing along, which proves that even background music is essential to a scene. 
_______
Want to listen to these songs in full? Follow NOFS on Spotify and check out this blog's playlist!
Thinking of a particular NOLA song that didn't make the list? Tweet us @NOFS or me @Failallison (or both!) with your favorite nod to New Orleans on the big screen. Happy listening!
p.s. The upcoming 30th annual New Orleans Film Festival (October 16-23, 2019) will host a Music Initiative Program designed to introduce Louisiana musicians to film & TV music supervisors and give musicians the opportunity to pitch their work. It seems like we'll be adding a lot more to this list in the near future…