We are thrilled to announce ten Louisiana-based filmmakers that have been selected to take part in the 2022 Emerging Voices Directors Labs. The Emerging Voices (EV) Directors Lab was created in 2014 and founded on the principle that to create a more diverse storytelling landscape, filmmakers of color in Louisiana need greater access to gatekeepers. The program offers an opportunity for underrepresented filmmakers—geographically, racially, and ethnically—to broaden their networks nationally and gain invaluable feedback on their own projects in development.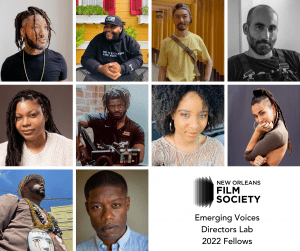 This year Emerging Voices Labs will have two tracks. The Emerging Voices Directors Lab will support six directors with narrative and documentary projects that are in pre-production, production, and post-production phases. The Emerging Voices Incubator Lab, a new program this year, will support four directors with narrative projects in the development phase and will be led by New Orleans Film Society's Artist Engagement & Programming Manager and award-winning filmmaker, Zandashé Brown. The lab will feature table reads and feedback sessions, helping filmmakers move towards pre-production. 
Kiyoko McCrae, director of NOFS Filmmaker Labs and Documentary Programming said: "After shifting our focus to supporting our alumni through the pandemic, we are thrilled to have reopened our call for submissions in two years. This year's Emerging Voices program features a diverse group of filmmakers creating original, innovative, and personal work who will be mentored by Southern filmmakers, PJ Raval, Bo Maguire, and Darcy McKinnon, to name a few. The decision to create a special track for narrative projects in development is in response to the lack of funding available to narrative projects and to the record number of applications we received for narrative projects in the script development phase. We hope this new focus will help filmmakers make the difficult transition from development to production, many of whom are embarking on making their first short or feature film." 
Applicants include filmmakers with narrative or documentary projects (shorts, features, or web-based), experimental films, and new media projects in the development/pre-production stage. Each year, participants are selected and are paired with industry leaders who offer mentorship, professional feedback, and a pathway to industry connections. Each participant receives a $2,000 grant to support their project. Participants also engage in year-round convenings and professional development opportunities, as well as meet & greets and workshops with other industry professionals during the New Orleans Film Festival to build further connections.
Emerging Voices is made possible with support from the National Endowment for the Arts, Ford Foundation, and Perspective Fund.
Emerging Voices Directors Lab 2022 Fellows and Projects

Juicebox Burton with How Lovely Everything Is (Narrative Short)
Juicebox P. Burton (They/She) is a black, gender-fluid, multi-disciplinary artist living in New Orleans. They are world-builder who frames narratives of trauma in the context of horror and sci-fi in order to heal the collective spirit of the black community. Their work gains its power from its self-taught nature, fostering the collaboration of other creators of color/Black creators whose collective story combats the aristocratic gatekeeping of the mainstream art industry. In 2017 Juicebox became co-owner of Studio Lalala, a Black and trans mixed media production company that utilizes a DIY philosophy to collectively produce the visions and voices of their community.
Project Logline: A man with the superpower to create new worlds embarks on an adventure that questions all he knows.
Ejaaz A. Mason with Black Suit: Sewing [HER]story (Documentary Short)
Ejaaz began his film career as a grip and electrician before moving into the camera and production departments. He worked with Oscar-winning cinematographer Sean Bobbitt on Spike Lee's 2013 film 'OldBoy' and has produced and/or directed projects for brands such as Dove, Crown Royal Whisky, Atlantic/Warner Music Group, Coca-Cola, AOL, and Google. Some of his cinematography work is featured in the upcoming HBO documentary "Katrina Babies" directed by Emerging Voices alumni Edward Buckles. In 2020, he co-founded the non-profit organization Lede NOLA which trains young people from historically underrepresented communities how to be storytellers. In 2021, Ejaaz was named one of Gambit Weekly's 40 Under 40. 
Project Logline: An iconic New Orleans Mardi Gras Indian must leave her beloved city but not before ensuring her legacy is solidified.
Zensuke Omi with Disorientation Vol. 3 (Documentary/Narrative Feature) 
Zensuke Omi's background is in documentary filmmaking and journalism. Omi started his own video production company XYZ PRISM Video Productions in 2018. Ever since the inception of his business, he has worked on numerous television shows, music videos, and documentary films as an owner-operator. Some notable work include working with Lizzo with a New Orleans local filmmaker Zuri Obi on an HBO documentary film coming out next year. Also, Zensuke has worked as a director of photography on New Orleans' based band, Hurray for the Riff Raff, collaborating with a New Orleans based artist Lucia Honey. 
Project Logline: Emulation of being Asian in the US is experiencing otherness. 
Andy Sarjahani with Untitled Iranian Hillbilly Project (Documentary Short) 
Andy Sarjahani is an American-Iranian documentary filmmaker and cinematographer raised in the Ozarks of Arkansas. He is interested in people, our relationship to place, and how that shapes our worldview. He holds an MS in Sustainable Agriculture/Food Systems from Montana State University and left academia in 2012 to tell stories with a camera. He worked on the critically acclaimed documentary Tower (2016) and his work has been featured in VICE, WORLD Channel, Outside, Rock & Ice, and Big Sky Documentary Film Festival. His work has been supported by ITVS, DOC NYC, New Orleans Film Society, Arkansas PBS, Asian Doc Network, and Video Consortium.
Project Logline: Raised in the Ozarks, the son of a Muslim Iranian father and Southern Baptist mother attempts to make sense of the divides between his two worlds.
Bianca Siplin with Our Own Normal (Narrative Feature) 
Bianca Siplin (she/her) is an award-winning filmmaker based in New Orleans, Louisiana. She is the Founder/CEO of Inner Phoenix Productions, board member of Women in Film and Television (Louisiana), and a member of Ava Duvernay's Array Crew. She is committed to creating stories that celebrate, acknowledge, and empower women through a historical and narrative lens. She is currently in post-production for her film "We Must Save Our Schools," which follows three women at the start of school integration in New Orleans in 1960. She recently directed a short film "Flora's Spell" that won best experimental film in the California International Film Festival. Her screenplays "The Grimalkin Society" and "Forever Here" were finalists in Hollywood Just For Shorts competition and Portland Screenplay Awards. She lives by the motto: "There are no rules to a creative experience. You have to experiment."
Project Logline: A broke and unambitious plus-size woman discovers her passion while babysitting an Afrocentric white teenager and her younger fashionista brother.
Cory St. Ewart with The Negro & The Cheese Knife (Narrative Short) 
Cory St. Ewart, pronounced (SAHN-EH-WAHRT), is a filmmaker based in Lafayette, LA. He holds a BFA in Digital and New Media Art from the University of Louisiana at Lafayette. His films explore racial identity, interracial relationships, and self-discovery with a propensity for comedic undertones. He is a recipient of the 2021 ArtSpark Grant, as well as the 2017 Backstory Screenwriters Grant. St. Ewart also is the creator of AcadianaBlack; an online store dedicated to selling clothing promoting diversity and Black heritage within Cajun country. He is a former resident artist at Basin Arts located in downtown Lafayette and has been a part of multiple visual arts exhibitions across the Acadiana region. 
Project Logline: Have you ever heard of a Black man with a cheese knife? Unfortunately for Antione, neither have the police. 
Emerging Voices Incubator Lab 2022 Fellows and Projects
Cierra Johnson with The Last Golden Hour (Narrative Short) 
Cierra is a filmmaker and storyteller born, bred, and based in New Orleans. She has a BA in English with a minor in Digital Filmmaking from Loyola University New Orleans. Developing a love for storytelling at a young age, she has written stories primarily in speculative fiction genres for a young adult audience. Through filmmaking, she hopes to explore stories that often go untold through perspectives that often go unheard. Her debut film, "Looking at the Edges", a short documentary about New Orleans East, was an official selection of the Crescent City Film and Arts Festival and the Black Film Festival of New Orleans.
Project Logline: A young black girl grapples with her acceptance of reality amid a recent horrific event that makes the world seem bleak.
Maya Pen with Flammable Water (Narrative Feature) 
Maya is a self-taught artist from Philadelphia, based in New Orleans. She works across various mediums, including film, special effects, mask-making and puppetry, theater creation, installation arts, music, and creative writing. She works in the realms of magical realism and science fiction, concerned with myth-making in relation to tangible and ethereal borders, dying earth, and collective practices. She has a strong foundation in cooperative environments grounded in shared space, equipment, educational resources, opportunities, and worker ownership. 
Project Logline: Threatened by the Boars and their wasteland, a family of Foxes must leave behind their cultural legacy, or risk losing their lives.
Gian Smith with The Capitalist (Narrative Short) 
In 2015, following the release of his web series "open mike" Gian Smith released his short film "The Adulterer" which screened in over 20 film festivals and won several awards and nominations including the prestigious Remi award at the 49th Worldfest-Houston International Film Festival and "Best Short Narrative" at Festival of Cinema NYC in 2018. He was nominated for the Ellen Sandor award, the top prize at the 2018 Black Harvest Film Festival for his film "love tap" which was made with a grant from the Gene Siskel Center in Chicago. He has since completed two more short films including "Tucker's War" which won Best Film at the Black Art & Film Festival. In 2018, Gian founded the Black Film Festival of New Orleans and currently serves as festival director. 
Project Logline: The house loses as opponents match wits during the heist of a drug lord's underground poker game. 
Nolam Plaas with This Weary Flesh (Narrative Short) 
Nolam Plaas was born and raised in the River Parishes, and around New Orleans and went to Destrehan High School and Southern University in Baton Rouge. Plaas majored in History but chose an acting career instead. Plaas did a few theater productions in college and was accepted into the prestigious MFA program at American Conservatory Theater in San Francisco and since then has done theater shows on both coasts. During the pandemic, in an effort to make his film dreams come true, Plaas invested time into writing projects for himself. He always loved movies and spent time writing pieces for himself, so that he could, not only just act in them, but expand his creative vision as a film artist.
Project Logline: A 6-year-old boy's life changes unexpectedly and tragically when his mother, Virginia, moves her boyfriend into their home.