New Orleans is so much more than the party capital of the US. It is a city with a rich history and with cultures that have been passed through generations for hundreds of years. If you want to learn more about the people and cultures that make New Orleans so diverse, unique, and vibrant, these 5 #NOFF2019 films are for you.
This year's New Orleans Film Festival will take place on October 16-23. Film tickets and festival passes are now available here.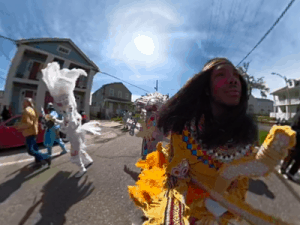 All on a Mardi Gras Day, by director Biliana Grozdanova, is making its world premiere at #NOFF2019. It is a virtual reality experience of Mardi Gras in New Orleans, featuring scenes from Bourbon Street, the St. Ann parade, and the Mardi Gras Indians.
Learn more about what to expect from the #NOFF2019 virtual reality exhibitions here.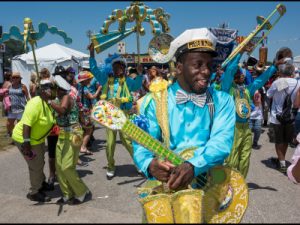 Ole & Nu is making its world premiere at the festival this year. The film, by director Weenta Girmay, follows three members of the Ole & Nu Style Fellas social aid and pleasure club as they reflect on twenty years of style, family, and community. 
This film will be screened as part of the Louisiana Shorts film series "Gris Gris Gumbo Ya Ya". Click here to find out more about all the films being screened in this series.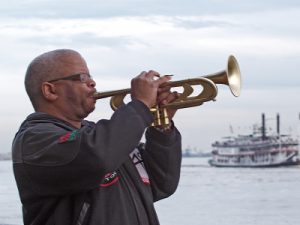 Up From the Streets, a film by Michael Murphy, is making its world premiere at #NOFF2019. This documentary gives audiences a look into the rich history of New Orleans music, and the wide-reaching influence it has around the world. It's a celebration of life through music.
This film also features music from Terence Blanchard, who will receive a Career Achievement Award at the closing night of the festival.
Read more about Up From the Streets here.
For all y'all who don't know, Mardi Gras Indians are African-American men who dress in suits influenced by Native American ceremonial attire for Mardi Gras. In All on a Mardi Gras Day, Big Chief of the Mardi Gras Indians, Demond Malancon, makes sacrifices to keep the 200 year old culture afloat in a gentrifying New Orleans.
This film is part of a Louisiana Shorts film series "Gris Gris Gumbo Ya Ya". Click here to find out more.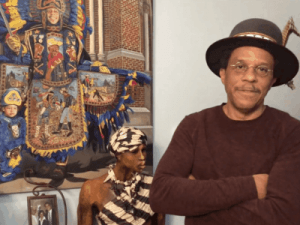 Spy Boy Down is a documentary short film by director Carl Harrison. The film is part one of a 3-part docuseries about Spy Boy Down, a Mardi Gras Indian. In this chapter, Spy Boy Down shares his life stories and tells us about his connection to the black masking culture of New Orleans. Until pretty recently, this story was unknown to anyone outside of the black masking community.
Spy Boy Down is another film in the "Gris Gris Gumbo Ya Ya" film series. Click here to read more about the films and to buy your tickets to the screening!
The New Orleans Film Festival is dedicated to showcasing diverse voices from all over the world, but they still manage to showcase diverse voices from right here in New Orleans. To read more about these films, click here, and don't forget to buy your passes to the 30th New Orleans Film Festival.